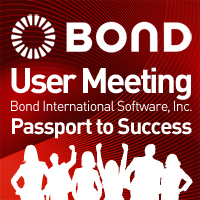 (It) raised my confidence level and excited me about the competitive advantage our company can have using our Bond software.
Atlanta, GA (PRWEB) June 02, 2014
Bond International Software, the global staffing and recruiting software specialists, concluded its annual User Meeting here with attending customers expressing their enthusiasm for the program and Bond's recent software updates and future plans.
The theme for this year's event, 'Passport to Success' emphasized how Bond's staffing and recruiting software gives savvy agencies a winning edge in today's fast-changing business climate. With the staffing industry showing strong growth, the Bond User Meeting saw its largest attendance in more than a decade as customers convened at the landmark Hyatt Regency Atlanta Downtown.
Among the highlights of the intense two-day agenda were:

Keynote speaker Mike Jacoutot, Founder and Managing Partner of Butler Street, LLC, speaking on "The Power of Process for Client Acquisition, Retention, and Expansion."
Keynote speaker Mike Cleland, CEO of Charted Path, on "Breaking Through: Transforming Your Data into a Catalyst for Profitable Growth."
Demonstrations and future roadmap plans for Bond's AdaptSuite staffing and recruiting software, including insights into such features as the Sales Studio, the Recruiting Studio, and AdaptSuite's integrated payroll and billing functions.
Sessions covering tips, techniques, integrations, and modules for AdaptSuite as well as Bond's eEmpACT and StaffSuite staffing and recruiting software applications.
Sessions featuring the offerings of Bond partners PeopleNet and ICC Global Hosting.
Ed Simpson, Vice President of Business Development, The Forum Group, said that, "Experiencing and witnessing Bond's employee commitment to excellence through honest open dialogue, combined with their solid industry experience, raised my confidence level and excited me about the competitive advantage our company can have using our Bond software if we truly partner and work closely together."
As always, the learning, discovery, and networking included some fun, as attendees joined much of the staff of Bond's Atlanta headquarters for a casino night dinner buffet.
Steve Taylor, Bond International Software Inc. President and CEO noted that "The Bond User Meeting offers a terrific opportunity for our customers to network and interact with Bond's staff as we share with them our products, services, and strategies for the future. Bond's AdaptSuite recruiting software demonstrated to all of our customers unprecedented levels of unified efficiency that give them the tools they need to succeed. At the same time, we are pleased to show our sustained improvement of and support for all of our software products that continue to provide those customers with the value and productivity they require. Only Bond, with its depth of experienced resources, has the capabilities to effectively support so many customers on different software packages."
About Bond International Software PLC (UK, AIM: BDI)
London stock-market listed Bond International Software has been a global provider of Recruitment, HR and Payroll software & services for 40 years.
Bond is one of the largest, and most established, global specialists in staffing software for recruitment agencies worldwide and is a rapidly growing provider of web-based e-recruitment and talent acquisition software to the corporate market. Bond also provides established HR and payroll outsourcing services and software directly to both the public and private sectors. For more information please visit http://www.bondinternationalsoftware.com.
Bond International Software, Inc. is the U.S. operating company for Bond, with headquarters in Atlanta, Georgia and offices in Richmond, Virginia and Bloomington, Minnesota. The Bond U.S. operations, with more than 100 employees, support nearly 800 customers and 20,000 users. For more information please visit http://www.bond-us.com.