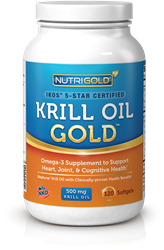 NutriGold Krill Oil is ConsumerLab approved and rated 5-Stars by International Krill Oil Standards.
Orem, Utah (PRWEB) May 31, 2014
NutriGold's Krill Oil, an IKOS 5-star certified product, has recently been approved by ConsumerLab in all aspects tested, including purity, freshness, and meeting label claims. ConsumerLab also noted that Krill Oil Gold had the lowest cost for EPA and DHA from krill oil. As a company that believes in complete transparency and integrity in the nutraceutical industry, NutriGold has adopted stringent third-party testing standards for their products and is one of only three companies that verify products for compliance with International Krill Oil Standards, and the only company with nine different lots verified.
NutriGold's Krill Oil supplement is manufactured using a sustainable marine source that is naturally rich in highly bioavailable Omega-3 fatty acids. Unlike the fatty acids found in fish oil, the Omega-3 fatty acids (EPA and DHA) in NutriGold's Krill Oil Gold are naturally bound to phospholipids, allowing them to be absorbed and carried to the body's cells more efficiently. Phospholipids form the structural basis of cell membranes, making them easily recognized, absorbed and utilized by the body.
Krill oil is also rich in astaxanthin, a powerful antioxidant that works synergistically with the phospholipid-bound Omega-3 fatty acids to deliver therapeutic benefits at a lower dosage and to support heart, cognitive, joint, and women's health.
Encapsulated in kosher fish gelatin instead of pork or bovine gelatin, NutriGold's Krill Oil supplements are guaranteed free of heavy metals, PCBs, dioxins, furans, and other toxins, and meets GOED and CRN standards for purity, potency, and freshness. NutriGold's commitment to consumer safety and wellness is further reflected in its voluntary testing of every lot of the product for allergens, GMOs, and radiation contamination.
FREE SAMPLES
For free product samples of NutriGold supplements, please visit http://www.nutrigold.com/free-samples, click "Like" on Facebook, or "Follow" the company on Google Plus.
ABOUT NUTRIGOLD
NutriGold is a science-based nutraceutical company committed to identifying, developing, and offering cutting-edge nutraceutical products. With a portfolio of best-in-class products at reasonable prices backed by unmatched service, NutriGold is not just raising the bar on quality, but is helping define the standards for the rest of the industry to follow and this is reflected in its:
+ Use of non-GMO, organic, whole-food, and clinically-proven ingredients
+ Uncompromising efforts to manufacture products without artificial ingredients, Stearates, Laurates, Sulfates, and Dioxides
+ Voluntary, extensive third party testing of all raw materials and finished products for identity, purity, potency, and safety
+ Resolute efforts to ensure that all products are free of contaminants, adulterants, allergens, and GMOs
+ Unwavering commitment to transparency, accountability, and truth in advertising
+ Initiatives to educate consumers so they can make informed decisions that affect their health
Website: nutrigold.com
Phone: 1-866-224-4680
Facebook: facebook.com/NutrigoldUSA
Google Plus: plus.google.com/+NutrigoldUSA
Twitter: twitter.com/Nutrigold_USA
FREE Product Samples: http://www.nutrigold.com/Free-Samples