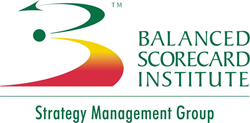 Cary, NC (PRWEB) June 02, 2014
The Balanced Scorecard Institute (BSI) announced that it will be partnering with Potentia, LLC to provide additional consulting and training services starting as early as September, 2014.
The Potentia partnership enables BSI to expand its current range of strategic planning and management service offerings to now include process improvement and Lean Six Sigma, areas that complement and integrate with BSI's strategic management framework and which are expected to help clients better execute and implement strategy and the customer facing and internal processes that strategy execution rely on.
"We at Potentia, LLC are excited to partner with the Balanced Scorecard Institute. Our Lean Six Sigma, Strategic Planning, and Change Leadership classes perfectly complement BSCI's offerings, thus providing our clients with a fully coordinated and synchronized "one-stop shopping" experience for all their strategic management training needs. All of our instructors are Lean Six Sigma Master Black Belt and Balanced Scorecard certified and thus able to provide a holistic and synergistic instructional approach with the goal of helping our clients' achieve their strategic goals," said David "Scott" Hencshel, President, Potentia, LLC.
A new training course will be offered to kick off the new partnership-- Imaginnovation. Imaginnovation is an entry-level, one day course that focuses on the Lean Six Sigma process improvement discipline and allows students the opportunity to experience process improvement in a simulated work environment.
"This new course, and associated consulting support, re-enforce and broaden BSI's commitment to integrated strategic planning and management, and the important components necessary to build, implement and sustain management systems well into the future," said Howard Rohm, Co-Founder and CEO of the Balanced Scorecard Institute.
About Potentia, LLC
Potentia, LLC, based in San Antonio, Texas offers a blend of strategic development, continuous process improvement, and change leadership to help their clients discover and utilize the power that already exists within their organizations.
About the Balanced Scorecard Institute:
The Balanced Scorecard Institute, a Strategy Management Group Company, provides strategic planning, balanced scorecard and performance measurement and management training, certification, and consulting services to government, non-profit, and commercial organizations. Services include public and on-site courses, facilitation and consulting services, and information and tools used by executives, managers and analysts to transform their organizations into "performance excellence" organizations.
BSI's website-- http://www.balancedscorecard.org --is a leading resource for information, ideas and best practices on strategic planning and management, performance measurement, and balanced scorecard systems. BSI's Nine Steps to Success™ balanced scorecard framework integrates strategic planning, budgeting, operational planning, performance measurement and strategy execution into a disciplined framework for helping organizations achieve higher levels of performance.