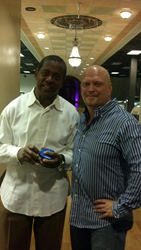 Phoenix, AZ (PRWEB) May 31, 2014
"Tackling Sleep Apnea", a national sleep apnea awareness campaign launched by Pro Player Health Alliance (PPHA), has been "a huge success" according to David Gergen, President of Pro Player Health Alliance. What started with helping NFL great Derek Kennard treat his sleep apnea has now turned into multiple health evaluations across the country, spread awareness to thousands, offering affordable home sleep testing solutions and ultimately treatment for over 200 former NFL players.
Mr. Gergen mentions, "We are also now focusing on making sure people are aware of home sleep testing, and we are offering to guide people through that process who think they are in need without any cost to them." Anyone can contact Pro Player Health Alliance for information on sleep disordered breathing, help with getting tested and referred to a PPHA trusted doctor.
Tony Dorsett, who was treated by Dr. Harry Sugg, recently took part in a Pro Player Health Alliance commercial on sleep apnea as a way of showing his support. He has, along with Roy Green, Derek Kennard and Mark Walczak, mentioned how being treated for sleep apnea has changed their lives. To hear their stories and watch the Tony Dorsett commercial, visit http://www.youtube.com/watch?v=HCGhfhwGq9E and follow Pro Player Health Alliance on Youtube.
For more information on getting tested, visit http://www.proplayersleep.com or email sfaulkner(at)proplayersleep(dot)com.
About Pro Player Health Alliance
Pro Player Health Alliance (PPHA) is an organization dedicated to helping former NFL players and the public through providing testing and treatment options for those who suffer from sleep apnea. In addition, the PPHA is dedicated to integrating education and raising awareness, in a fun and memorable way. The PPHA was created by David Gergen.
About David Gergen
As President of Pro Player Health Alliance, he has been a nationally respected dental lab technician for over 25 years. He received the award for "The Finest Orthodontic Technician in the Country" given by Columbus Dental in 1986. He also has been appointed chair of the dental wing of the American Sleep and Breathing Academy, a national interdisciplinary academy dedicated to sleep training and education. He has worked for some of the pioneers in the orthodontic and sleep dentistry fields. One of his proudest achievements is receiving The National Leadership award for Arizona Small Businessman of the Year in 2004.