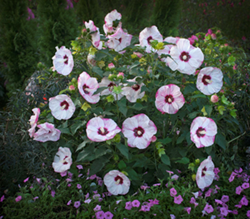 Perennials are the workhorse of any garden. Plant them once, and enjoy them for years to come.
(PRWEB) May 30, 2014
You can depend on Proven Winners' beautiful perennials to color up your landscape year after year, and these new beauties are no exception! Some of these new introductions will add tremendous height and impact to your landscape, while others will offer a burst of color at the front of the flower bed. Easy to grow, easy to love... color your home with the help of Proven Winners.
Summerific® 'Cherry Cheesecake' Hibiscus
Another gorgeous addition to the popular SUMMERIFIC™ series! This year's new gal on the block is a compact, well-branched and heavily budded selection that forms an attractive, shrub-like clump of thick, leathery, maple-like, dark green leaves. And the 8" blooms will stop traffic in any garden or neighborhood!
Dolce® Cinnamon Curls™ Heuchera
This highly distinctive cultivar emerges fiery orange-red in spring and mellows to a spicy blend of cinnamon, red, and purple tones in summer. Its heavily ruffled, leathery leaves form a neatly compact clump, making it easy to fit into combination containers and the border's edge.
Dolce® 'Blackberry Ice' Heuchera
If you're looking for the new standard in purple Heucheras, you've found it! You'll be impressed by the vigorous growth of 'Blackberry Ice' and since it's a H. villosa hybrid, it also exhibits greater heat and humidity tolerance. The newest leaves are a remarkable iridescent purple with black veining and have amethyst purple undersides. As the leaves mature, they develop a softly luminescent pewter overlay. In midsummer, reddish purple scapes which are quite proportional to the foliage carry wands of cream flowers.
Sweet Romance™ Lavandula angustifolia
Gardeners around the world have been growing lavender for centuries for its intensely fragrant flowers, beautiful appearance, and ease of culture. Along comes SWEET ROMANCE™, destined to become a favorite because of its ability to bloom the first year. Additionally, it begins to flower a bit earlier in the season, typically in early summer and lasting into early fall. The grey-green foliage forms a compact mound topped with plump, rich violet purple flower wands that are perfect for cutting for fresh and dried bouquets. Clusters of tiny flowers appear at the nodes up the stem in addition to the terminal inflorescence, adding color down into the plant.
'Cat's Meow' Nepeta faassenii
No catmint is a more beautiful, uniform grower than Cat's Meow Nepeta. Its flowers are dense and colorful, and its habit is more refined. Plus, it stands strong with no flopping, getting wider and growing to a broad mound as the season progresses.
For more information about these perennial varieties, or any of Proven Winners other plant varieties, please visit http://www.provenwinners.com.