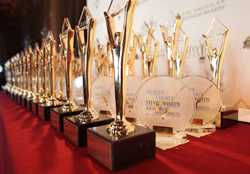 We are very thankful that the Stevie Awards has recognized Yashi as a leader within the online video advertising industry.
Toms River, NJ (PRWEB) June 03, 2014
Yashi has been named a finalist for Company of the Year, and its CEO and Co-founder has also been named as a finalist for Executive of the Year in The 2014 American Business Awards, and will ultimately be a Gold, Silver, or Bronze Stevie® Award winner in the program.
The American Business Awards are the nation's premier business awards program. All organizations operating in the U.S.A. are eligible to submit nominations – public and private, for-profit and non-profit, large and small.
The American Business Awards will be presented at two awards events: the ABA's traditional banquet on Friday, June 13 in Chicago and the new product & technology awards event on Friday, September 12 in San Francisco.
More than 3,300 nominations from organizations of all sizes and in virtually every industry were submitted this year for consideration in a wide range of categories, including Most Innovative Company of the Year, Management Team of the Year, Best New Product or Service of the Year, Corporate Social Responsibility Program of the Year, and Executive of the Year, among others. Yashi is nominated in the Company of the Year category for Advertising, Marketing & Public Relations.
"Online video advertising is growing rapidly and has been very disruptive to television," says Jay Gould, CEO and Co-founder of Yashi. "Yashi has been a beneficiary of this rapid growth, due to its exceptional team that has built world-class location focused video advertising technology for its customers. We are very thankful that the Stevie Awards has recognized Yashi as a leader within the online video advertising industry."
Finalists were chosen by more than 150 business professionals nationwide during preliminary judging in April and May. More than 150 members of several specialized judging committees will determine Stevie Award placements from among the Finalists during final judging, to take place May 13-22.
"The final judges have a difficult task ahead of them, to rank the Finalists, because there are so many great nominations this year," said Stevie Awards president and founder Michael Gallagher.
Details about The American Business Awards and the list of Finalists in all categories are available at http://www.StevieAwards.com/ABA.
About Yashi
Yashi is a privately held, location focused online video advertising platform. The company has developed a proprietary demand side platform that analyzes 40 billion video ad opportunities, in real-time, and delivers hundreds of millions of video ads every month. This has enabled national and local businesses to repurpose their cable television advertisements to online video to target their customers where they work, play and live. The company is located at the Jersey Shore and has experienced rapid growth with a historical compounded annual revenue growth rate of 70% since inception. For more information, please visit us at: http://www.yashi.com, or follow us on Twitter at @yashi.
About the Stevie Awards
Stevie Awards are conferred in five programs: The American Business Awards, The International Business Awards, the Asia-Pacific Stevie Awards, the Stevie Awards for Women in Business, and the Stevie Awards for Sales & Customer Service. A sixth program, the German Stevie Awards, will debut later this year. Honoring organizations of all types and sizes and the people behind them, the Stevies recognize outstanding performances in the workplace worldwide. Learn more about the Stevie Awards at http://www.StevieAwards.com.
Sponsors and partners of The 2014 American Business Awards include Biz Talk Radio, CallidusCloud, Citrix Online, Cvent, Engility, John Hancock, LycaMobile, PetRays, and Softpro.