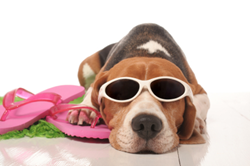 "We have trained our sitters in pet first aid so that they can recognize when an animal is in distress." Joette White, President of Park Cities Pet Sitter, Inc.
Dallas, TX (PRWEB) May 30, 2014
After being in business more than 20 years, Park Cities Pet Sitter President, Joette White, is well aware that her staff needs to be especially watchful of the pets under their care during the hot summer months in Texas. With average high temperatures in Dallas in the high 90s and low 100s every summer, there are potential health dangers to the pets they care for from the excessive heat and humidity.
Many pet owners are simply unaware of the impact heat has on their animals. While humans cool down by sweating from numerous areas on their body, dogs and cats have very few sweat glands. Their primary ways to sweat are from their paw pads and nose. When a dog is getting hot, you will often see it open its mouth and begin to pant, because they are trying to breathe more quickly to help cool their body down. Breathing more quickly forces a dog's heart and lungs to work more strenuously. This extra pressure on the heart and lungs can be especially impactful to elderly pets. Similarly, brachycephalic dogs—those with short or "pushed in" snouts, like boxers, pugs, and bulldogs—are especially susceptible to breathing issues in hot temperatures because their shorter nasal passages don't allow them to breathe more quickly very easily, so it's harder for them to cool themselves down.
Park Cities Pet Sitter has many midday dog walk clients who pay for their dog to receive a midday walk and a bit of exercise, so Ms. White cautions all of her sitters to watch for these signs and to take these precautions during the summer months to ensure the safety of the animals in their care:
1) If pets are kept primarily outdoors, make sure there are shaded areas where the animals can stay out of direct sunlight. Always make sure there is water available, and plenty of it. Having a kiddie pool outside filled with water is also a good way for outdoor pets to stay cool.
2) Stay off pavement and cement if at all possible, walk pets on grass. Paw pads can easily be burned when the pavement is hot, so head straight to the nearest patch of grass and stay on it for the entire walk if at all possible.
3) Move a pet's exercise indoors where there is air conditioning, or move the time they exercise to before 10am or after 7pm.
4) Recognize the signs of heat stroke or heat exhaustion in a pet, which can include: heavy panting, bloody vomit or diarrhea, dry or red gums, collapse, thick saliva, or simply lying down and being unwilling to get back up. If these signs are present, immediately move the dog inside and try to cool him off with a tepid shower or by placing cool wet rags on their head and feet. Offer the animal water, but do not force them to drink. Immediately call or visit the vet if immediate improvement is not seen.
Ms. White has thought extensively about how to best manage a pet's safety in the summer, while still trying to provide midday dog walking service in the brutal Texas heat. "At the end of the day, the health of my clients' pets and the health and well-being of my staff has to be the top priority, above everything else. We have trained our sitters in pet first aid so that they can recognize when an animal is in distress, and allow our sitters to err on the side of caution if they believe the heat is too traumatizing for an elderly pet, one that might be recovering from a health issue, or one whose snout does not allow them to breathe as easily. We remind them regularly during the summer to prioritize health and safety, so they make good decisions out in the field. I think that is the best possible solution for satisfying clients' needs while respecting the power of Mother Nature at the same time."
Park Cities Pet Sitter, Inc. has served the Dallas area 7 days a week, 365 days a year since 1992. Pet sitting, daily dog walks, pet taxis, overnight sitting, pet supply shopping, litter box cleaning and dog training are all part of the services PCPSI offers. Park Cities Pet Sitter is bonded and insured, and all sitters are employees--not independent contractors. A manager is on-call 24 hours a day to handle any emergencies. Additional information about Park Cities Pet Sitter can be found on their website at http://www.pcpsi.com.