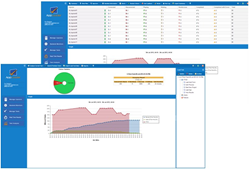 Testing takes place from the front-end, showcasing results that are as close to real-world usage as possible.
Los Angeles, California (PRWEB) June 02, 2014
Complex Citrix testing requirements can often lead to increased production time or missed deadlines. There are an ever growing number of variables that require testing, especially within the Citrix eco-system. Types of workstations, resolution of screens, number of users, performance under heavy load, and more all manifest themselves during some stage in the testing process. NRG Global, a quality assurance firm based in Los Angeles, offers a solution to properly manage, maintain, and edit testing scenarios at any point prior to go-live. AppLoader performs load, stress, and regression testing utilizing a unique image-based approach. Not only does this solution offer more flexibility, it is also more robust, simpler to use, and requires less resources to be utilized.
Traditional load and stress testing methods require powerful machines to emulate each individual user. The image-based solution offered by NRG Global allows for multiple users or environments per core, giving multi-cored machines the ability to test more users at once. To learn more, visit NRG Global and read more about AppLoader.
NRG Global's testing suite removes the need for complicated, back-end testing, by utilizing images, text, or coordinates. Complicated changes can be made without coding or scripting. Testing takes place from the front-end, showcasing results that are as close to real-world usage as possible. Scenarios can be recorded with simple mouse movements, entered text, or complex statements. Results and data are presented graphically. Logs are kept, but not necessary to denote errors or failures while screenshots of failure notices can be emailed to the QA team. The screenshots not only allow for more accurate knowledge of where and when errors take place, but they also help improve communication between the testing and development teams.
Whether the rollout is taking place within the financial, healthcare, education, or any other industry, scalability is of great concern. Take, for instance, a hospital running an EMR with thin, fat, web, and/or custom workstations. The complexity with which it would take to properly test each workstation individually would add additional hours to any go-live project. When utilizing AppLoader, any type of Windows based workstation can be tested simultaneously. The tests are more telling of real-world events or activities, stress and load can be measured accurately, and testers get a better view of what changes to make next.
The load and stress testing solution chosen for any particular development phase should be efficient, adaptive, and fit into budget. With AppLoader and image-based testing, results are more accurate, testing can be changed to meet specifications, and issues are solved more quickly. With ever changing business needs and testing strategies, adapting to said change and maintaining a project with a flexible yet robust tool can make all the difference. To try AppLoader now, click here. See exactly what AppLoader will do for your application with a free Proof of Concept, here.