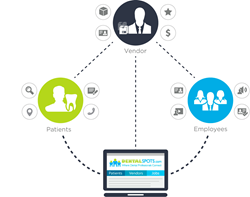 It is time for the dental profession to stop letting devices dictate how we fill or find open dental jobs.
Dallas, TX (PRWEB) May 30, 2014
In response to increased demand for services from mobile users, DentalSpots.com plans to upgrade its mobile applications to provide even more functionality when finding and filling dental jobs.
Due to the increased demand for mobile services, Feridoon Amini, founder of DentalSpots.com, recently announced the website's intention to upgrade its mobile applications to provide increased functionality for dental job-matching functions. Dental job seekers and dental employers will now be able to enjoy many more of DentalSpots.com's exciting features using these expanded and improved iPhone and Android apps.
The big contradiction in dental staffing is that dentists can't provide the best possible patient services if they don't have a full team of dental professionals working by their side, but it is nearly impossible for dentists to find time to hire new personnel if they are constantly working to provide all of the patient services by themselves. The website where dental professionals connect felt it was necessary to improve its accessibility to make it easier for dental employers to fill their open dental jobs.
Dentists can now turn all of their concerns over to DentalSpots.com, and let the website help find the dental professionals their practice is missing. They simply join DentalSpots.com, select a subscription level and build an online profile to begin listing full-time, part-time and temporary dental jobs, searching resumes and managing candidates, and viewing video resumes. The online portal allows dental employers to find qualified candidates for their open dental jobs, and send a message directly to qualified candidates to request an interview.
"We constantly keep in touch with dental professionals," commented Amini. "From what they were telling us and what we were seeing in usage, we knew it was time to make a change. We want to be responsive to the needs of dental professionals and that is why we are making these improvements."
This new functionality will means that dental job seekers won't miss out on any opportunities just because they are using a mobile phone. They can read listings and apply for temporary and full-time dental hygienist jobs, dental assistant jobs, and dental front office jobs, or have DentalSpots.com alert then when a job is listed that matches their criteria. Dental job seekers need to register, create a profile, and set up personalized job alerts to begin searching for dental jobs.
"It is time for the dental profession to stop letting devices dictate how we fill or find open dental jobs," concluded Amini. "Dental professionals can take control and use DentalSpots.com wherever they go, online or on a mobile phone. Our state-of-the-art online solution helps dentists match qualified candidates with open jobs in dentistry and network with other dental professionals."
About DentalSpots.com: DentalSpots.com is the premier, full-service online portal where dental professionals can network, fill dental jobs, connect with patients and find dental vendors. Further information may be obtained by visiting the website at http://www.dentalspots.com, connecting on Facebook, following @DentalSpots on Twitter.