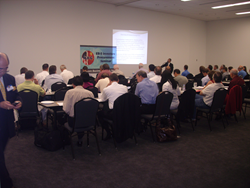 New York, NY (PRWEB) June 01, 2014
Artisan Business Group Inc. is to host The Accelerated EB-5 Capital Raising Process Practical Workshop in New York City and New Jersey area July 10, 2014. The Accelerated EB-5 Capital Raising Process Workshop will focus on exploring alternative finance through EB-5 immigrant investors program. The one day workshop is presented for new and experienced EB-5 regional center executives, project developers, EB-5 regional centers and service providers.
The workshop will feature the most experienced EB-5 experts such as Jeff Carr of Economic and Policy Resources, Clem Turner of Homeier & Law, Brian Su of Artisan Business Group and immigration agents from China. "Our goal is to assist EB-5 projects in entering capital markets around the world. We will help you create and develop an effective market entry strategy and capital raising plan for your current and upcoming EB-5 investment projects," says Brian Su, founder of Artisan Business Group.
The Accelerated EB-5 Capital Raising Workshop is designed to provide months of knowledge about the Chinese market in a one day workshop. The ultimate goal of the workshop is to help boost EB-5 capital raising efforts and campaign without wasting time and resources. Participants are encouraged to bring their project summary and marketing material. Mr. Brian Su will share real world stories and examples on the Chinese emigration industry from his past projects and experiences. These real world examples will help educate the attendees on what to do and not do when raising capital in overseas markets. This July 10th event will expedite the project's marketing strategies and overall knowledge of the competitive marketplace to give the participants a leg up on their competitors.
The goal is to help you supercharge your EB-5 capital raising efforts and campaign. The main topics to be discussed during this Newark, NJ seminar will include EB-5 Econometrics & Common RFEs, Matter of Ho compliant business plans, Structuring safe and SEC compliant offering documents, Project Marketing to EB-5 Investors, EB-5 Investors Market Update and Trends, EB-5 regional center designation, regional center vs. direct EB-5, project capital structures, project marketability, commission and fee structures, EB-5 capital early release, investor exit strategies, dealing and negotiation with emigration agents, emigration agent's expectations, investors decision making process, investor returns and risk management.
The Accelerated EB-5 Capital Raising Workshop will take place at a private hotel near Newark, NJ Airport and it will be released to attendees after registration is completed. Artisan Business Group is a US-China Market Entry Consultant focusing on connecting professionals from both countries in accomplishing their business goals.
For more information regarding the event and registration, please visit: http://NYEB5.eventbrite.com or call us at 217-899-6661.
Press Contact:
Mr. Tyler McKay
1.217.899.6661
Artisan Business Group, Inc.
http://www.EB5NewsBlog.org