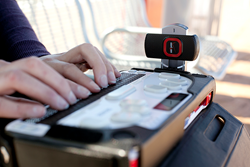 . . . my BrailleSense has become essential. I can't imagine trying to do law school without it.
Austin, TX (PRWEB) May 30, 2014
As students across the country wrap up their final days of this school year, our graduating seniors, especially those with vision impairments are also eagerly making preparations for the fall. They're selecting their classes, making dorm-room arrangements and if we're being honest – making sure they know where the nearest all-night pizza shop is located. For students who are blind or who have low vision, there's the added task of figuring out not only which books they will need for the fall, but also how they prefer to access them and what their best strategies will be for note-taking, studying and finding their way around campus independently. Luckily, thanks to recent advancements in assistive technology, there are products that can help with ALL of our millennials' concerns.
For students with low vision conditions such as congenital cataracts, retinopathy of prematurity or amblyopia there's a very cool new iOS compatible magnifier called E-bot that is red-hot right now. E-bot is a sturdy and very portable, collapsible device that can magnify near or far and adjust your viewing image based on familiar touchscreen gestures that today's students already know by heart. Depending on the model you choose (there's three available this summer), it can even read printed text aloud, store captured text and classroom videos for later or allow the user to move the camera electronically right rom the surface of their iPad or Android tablet! E-bot can also be paired with a PC laptop, Macbook or a simple standard HDMI monitor… but the touchscreen capabilities are the primary reason for all the buzz with teachers, students and parent this summer.
Alternatively, one device for studying and taking notes that's very popular with students who are blind, coincidentally will handle the pizza situation as well. It's called the Braille Sense U2. This high-tech product comes in three models giving students the option of using a standard keyboard or a 'Perkins-style' Braille keyboard. Each has computing capabilities similar to a small computer or netbook but can also read text and eBook formats aloud or present the text on a line of refreshable Braille (either 18 or 32 cells depending on the model). Additionally, Braille Sense U2 models give students on-the-go access to a whole arsenal of special apps and programs made especially for students and professionals. Some of these include: a built-in GPS and compass, Google maps, Excel and PowerPoint viewers, Dropbox for sharing files between students and/or teachers, Twitter for keeping in touch with Mom and Dad and a special YouTube app that makes it easier to find and watch educational (or entertaining) videos.
Dory Fiona, a law student from San Antonio recently shared this comment with her friends on Twitter, "I don't know about you, but my BrailleSense has become essential. I can't imagine trying to do law school without it." Driving home the idea that devices like these are opening new doors, or at the very least making them a little easier to open by one's self.
Another great technology for students with vision impairments is the Blaze EZ, currently the only digital book player with a built-in camera for OCR text to speech reading of printed materials. This device is about the size of an iPhone 1, has simple navigation buttons for playing music, listening to text books, adding voice notes (similar to making notes in the margins of a printed text) and capturing printed text from classroom handouts, campus announcements or restaurant menus for reading aloud on the fly. Blaze EZ has built-in Wi-Fi capabilities for easy direct downloading of new reading materials, picking up internet radio broadcasts and transferring files between computers and other devices. Blaze EZ also happens to be one of the most affordable options for visually impaired students who need independent access to printed text from a portable device.
To learn more about the products mentioned here for those with low vision or who are blind, you can visit the HIMS Inc. website, http://www.hims-inc.com or call 888-520-4467 to speak to an assistive technology specialist directly.
Since its founding 15 years ago, HIMS has been devoted to improving opportunities for the visually impaired through the development of technology products for the blind and low vision. HIMS Inc., an Austin, Texas-based company that specializes in assistive technology products is a wholly owned subsidiary of HIMS International Corporation.