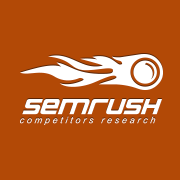 Trevose, PA (PRWEB) June 02, 2014
SEMrush, developer of the widely-used SEMrush digital marketing tool, has announced that their CEO, Oleg Shchegolev, will be attending this year's IRCE conference in Chicago. The Internet Retailer Conference and Expo is the world's largest E-Commerce event. Other attendees will include the CEOs of eBay, Wikipedia and Wayfair.com.
"I am looking forward to this year's IRCE event and the opportunity to personally introduce SEMrush to many new businesses", said Oleg Shchegolev. "As a marketing resource, SEMrush provides unique insights into competitive research that would really help the companies at IRCE improve their performance from a marketing perspective. Although this is our first year as an exhibitor, I feel this expo is truly a great showcase for our brand."
The SEMrush tool, which is currently used by over 390,000 companies and individuals globally, offers comprehensive data on website performance, search engine rankings and online advertising history. Additionally, SEMrush provides extensive competitive research data for businesses to assist in developing custom-tailored digital marketing strategies.
"Because there is so much competition in the online retail industry, our application has become a significant asset to many companies in that vertical," said Shchegolev. "I expect SEMrush to leave a great impression with the attendees of IRCE and am proud to be a part of this event."
SEMrush will be located at Booth #159 and offer free, customized product demonstrations to all IRCE attendees.
For more information on SEMrush, visit http://www.semrush.com. For more about the IRCE, visit http://www.irce.com.