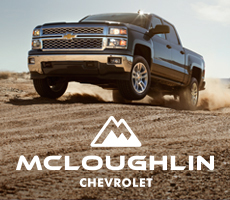 After being tested time and time again, the Chevy Silverado is the most dependable and longest lasting pickup out there.
Portland, OR (PRWEB) May 31, 2014
The resilient Chevrolet Silverado has proven itself once again by getting several crowns: The data analysis firm, Vincentric, has highlighted the Chevrolet Silverado as the Best Value Truck Brand in America, and it has also named the Silverado family the lowest cost-to-own of any full-size pickups. McLoughlin Chevy has been the proud parent of the Chevy Silverados in the Portland, OR area and is offering specials for all the Portlanders that want to join the winning team.
The highlight went specifically to the admirable Silverado 2500HD, making it the picture-perfect pickup for the driver that seeks longevity and value at a manageable price. This was calculated by analyzing the Silverado's cost through eight different categories to quantify the idea of value. The formula includes depreciation, fees and taxes, financing, fuel, insurance, maintenance, opportunity cost, and repairs. The reason this truck landed on top was because the cost of ownership for a specific vehicle to its market price was compared. Obviously, this muscular driving machine wins every time.
During the evaluation, over 1,000 truck lines were evaluated to appoint the best value in the country. The undefeated, heavy-weight champ is incomparable and should not be underestimated while taking on the roads of Portland.
David Wurster, president of Vincentric, says, "We found that Chevrolet trucks cost less to own and operate than would be expected, which provides great value to truck buyers." He also praised Chevrolet and Silverado for their long history of providing high-value trucks at a manageable price.
The average life of a truck with its sole owner is averaged at more than 11 years, which means these trucks are with one owner for quite some time. The low-cost ownership of the Silverado makes it worth every penny spent, especially since the value and quality is always displayed either while behind the wheel or as an admiring bystander.
After being tested time and time again, the Chevy Silverado is the most dependable and longest lasting pickup out there. In order to receive the highest results, Chevy recommends a 2-year/24,000 mile recommended schedule maintenance and also offers their valued Chevy family a 5-year/100,000-mile powertrain warranty. For extended warranty options and maintenance come by McLoughlin Chevy, a local Portland Chevy dealership, at 16700 SE McLoughlin BLVD, Milwaukie, OR 97267 or call us at 888-218-7254.