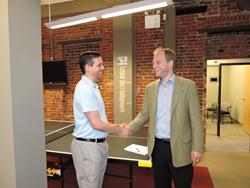 PC SpeedBoost™ software's conversion rate often reaches 10%-20% in our own tests," says Mehta. "This should make for easy, quick tests that at least pay for themselves.
Boston, MA (PRWEB) June 16, 2014
Boost® Software, INC recently entered into an exclusive PPI agreement with Neverblue, offering their first PPI opportunity in the company's history. The recent launch has proven to be a great success with Boost Software consistently in the top 5 offers at Neverblue and one of the fastest-growing offers on the network.
These new offers include an exclusive $4.50 Pay Per Install version of the software. They are still offering a very generous $45 Cost Per Sale, too. Boost Software's registry cleaners and their sales funnel were optimized for almost three years, at a cost of nearly $750,000, before they partnered with Neverblue.
"We're delighted to broaden and strengthen our relationship with Boost Software," said Bjorn Hougaard, Vice President of Network for Neverblue. "Boost's distinction in the software development industry, combined with Neverblue's extensive publisher base will provide unparalleled distribution in the performance marketing industry," he added.
Boost Software is no stranger to the performance marketing space. It was founded by former super-affiliates Peter Dunbar and Amit Mehta. The two have over 20 years of combined experience in the industry.
"PC SpeedBoost™ software's conversion rate often reaches 10%-20% in our own tests," says Mehta. "This should make for easy, quick tests that at least pay for themselves. This is important not just for new affiliate marketers, but for experienced affiliates with plenty of traffic sources to test."
"Every part of the sales funnel has been tested," says co-founder Dunbar. "Right down to multiple versions of the shopping cart. We've achieved a very good conversion rate without resorting to scare tactics or anything unethical. Affiliates who are in this as a long-term business will appreciate that."
Neverblue is one of the oldest online CPA networks still around. The network formed in 2004—a virtual lifetime in affiliate marketing terms (most CPA and other affiliate networks from that era are no longer around today). Mehta got his start in affiliate marketing at roughly the same time.
After a few years in the industry, Mehta formed Boost Software, INC with business partner, software programmer, and fellow affiliate Peter Dunbar. The two decided to leverage a noticeable gap in the registry cleaner niche: A registry cleaning software with a robust build and reliable customer support.
Boost Software provides native English-speaking customer support for all of its products, PC SpeedBoost and PC HealthBoost® software included. The company has call centers based in the United States, United Kingdom, and Australia.
Mehta and Dunbar believe their products' build and support are what keep returns below 4%.
"All of our products have a return rate less than half the industry standard," says Dunbar. "Our development team and support teams really do a knockout job to keep our customers happy."
Boost Software provides multiple creative to affiliates at http://Neverblue.com. It also provides affiliates with banners, screen shots, trust seals, and professionally-made videos at http://BoostAffiliates.com. You may also watch a recent video on Neverblue's YouTube channel featuring the two C0-CEOs, Amit Mehta and Peter Dunbar here.