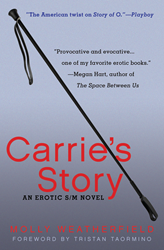 At each reading, the quality of the writing takes me by surprise and pulls me in again. A wonderful exploration of the literary edge of arousal. —Anneke Jacob, author of As She's Told
(PRWEB) June 02, 2014
The Audio Publishers Association (APA) announced the winners of the 2014 Audie Awards® at its 19th Annual Audies Gala on May 29th at the New York Academy of Medicine in New York City. Often referred to as the "Oscars of spoken word entertainment," the evening marks a gathering of authors, narrators and publishers excited to hear who will win the most prestigious awards honoring audiobooks in the United States.
Carrie's Story: An Erotic S/M Novel by Molly Weatherfield (Cleis Press) has won the Audio Award in the category of Erotica. Weatherfield places alongside other popular authors Nicholas Spark (Romance) and Billy Crystal (Audiobook of the Year).
Brilliant, bold and exquisitely kinky, Carrie's Story is an American Story of O that goes to the head of the class. Told in the whip-smart voice of a wickedly perceptive English major, this fully imagined and elegantly expressed erotic tale may well be the finest BDSM novel ever written. As Carrie's passions for irony, self-scrutiny and obedience to her master Jonathan take her from San Francisco to the rough rural byways of the Central Valley and posh enclaves of an overcivilized Europe, her story will sweep readers into a world of secret, high-concept sensuality. In Carrie's Story, Molly Weatherfield (the alter ego of an award-winning romance writer), has created an indelible "thinking readers' submissive."
Cleis Press publishes provocative, intelligent books across genres. Whether literary fiction, human rights, mystery, romance, erotica, LGBTQ studies, sex guides, pulp fiction, or memoir, you know that if it's outside the ordinary, it's Cleis Press.