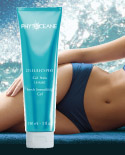 ...golden alga cultivated in the laboratory combined with a cocktail of marine actives to work to inhibit fat storage in the body.
Saint-Malo, France (PRWEB) May 31, 2014
Available in spas in the United States, May 2014 and at http://www.lespausa.com.
It is believed that nine out of 10 women have suffered with cellulite, the skin dimpling that can occur on the legs, buttocks and thighs, coining the term "orange peel skin." Phytocéane has launched CELLULI-EXPERT Fresh Smoothing Gel to combat this issue with a cutting-edge formula containing a golden alga cultivated in the laboratory combined with a cocktail of marine actives to work to inhibit fat storage in the body. Brown and red seaweed extracts combine with pink berry oil to block fat storage, activate fat burning, limit the formation of new fat cells and promote microcirculation and drainage. This slimming product has an advanced bi-gel texture that is absorbed immediately into the skin and offers a soft, marine/jasmine scent that leaves skin feeling fresh.
CELLULI-EXPERT Fresh Smoothing Gel --- 150 ml, suggested retail price $74.00
Directions for use: Apply morning and evening to target areas using upward circular motions from the ankles to hips. Not suitable for people who are sensitive to iodine. Not for use for pregnant or nursing women.
Key ingredients:

Orella Extract - extract of golden algae grown in Phytocéane laboratory. Inhibiting effect on the synthesis and storage of fat*.
Pink Berry Oil - helps to block fat storage and activate fat burning; promotes skin microcirculation.
Laminaria Digitata - brown seaweed that limits the formation of new fat cells and stimulates the synthesis of collagen for a firming action.
Palmaria Palmata - red seaweed stimulates microcirculation and promotes drainage.
*in vitro test on ingredient.
Impressive Results:
Significant reduction in the visual evaluation of cellulite dimpling
-12% on average, up to -38%
*Clinical test of 24 women with visible cellulite dimpling. Twice-daily application for 28 days.
Phytocéane at a Glance:
When exploring the secrets of Phytocéane, you will discover a natural, marine brand that reveals precious JEWELS OF THE SEA and sets itself apart as a true treasure in the spa industry. Nestled in the heart of the Emerald Coast in France, Phytocéane embodies the region's timeless tradition of travel, escape and discovery. This professional, naturally based facial and body care line utilizes resources and ingredients found in the most pristine, beautiful seas around the world. We are one of the only spa brands with our own laboratory, allowing us to research and cultivate our own ingredients, develop unique cosmetic formulas, manufacture skin care products and create cutting-edge professional treatments to deliver remarkable results.