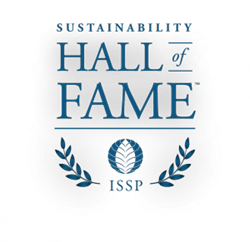 The ISSP Sustainability Hall of Fame was established in 2011 to formally recognize individuals who have made significant contributions to the field of sustainability and to the professionals who serve it.
Hartford, CT (PRWEB) June 02, 2014
The International Society of Sustainability Professionals has announced the latest set of leaders in the sustainability profession who will join the ISSP Sustainability Hall of Fame. The four new honorees will be inducted during a ceremony at ISSP Conference 2014, to be held on November 12-14 in Denver, Colorado.
As in past years, names of nominees were submitted by ISSP members and, after thorough review, the current class was selected by the ISSP Board of Directors. They are:
Susan Burns, CEO of Global Footprint Network. Over the last decade Susan has built Global Footprint Network into one of the leading and most respected scientific organizations in the world addressing global ecological limits. She continues to lead the overall strategic direction of Global Footprint Network and now advises governments and financial institutions on incorporating ecological risk into financial risk analysis and government policy. Prior to launching Global Footprint Network, Susan founded the pioneering sustainability consulting firm Natural Strategies, advising such companies as Mitsubishi Electric, Genencor, and Lowes. She has over 18 years of experience working with more than 50 corporations and other organizations on a variety of sustainability-related issues from forest policy to business strategy.
Jeffrey Hollender, Founder and CEO of Hollender Sustainable Brands. Hollender Sustainable Brands has developed and markets Sustain condoms, the first US brand of condoms that is certified to be fair trade, free of chemicals of concern and sustainably produced. Jeffrey is also Adjunct Professor of sustainability and social entrepreneurship at New York University and the co-founder of Seventh Generation. He is also a board member and former Board Chair of the Greenpeace US; co-founder and Board Chair of the American Sustainable Business Council, a coalition of 200,000 business leaders committed to progressive public policy, and a board member of Verite. He is the author of seven books, including most recently, The Responsibility Revolution: How the Next Generation of Businesses Will Win and Planet Home.
Joel Makower, Chairman and Executive Editor of GreenBiz Group Inc. Joel is an award-winning author and a leading voice on the intersection of sustainable business, clean technology and innovation. He hosts GreenBiz.com's annual GreenBiz Forum as well as the VERGE conferences produced around the world by his company, and is author of the annual "State of Green Business" report. Joel speaks widely to companies around the world. He is author of more than a dozen books, including his latest, Strategies for the Green Economy (2008). The Associated Press has called Joel "The guru of green business practices." In 2012, he was awarded the Hutchens Medal by the American Society for Quality, which cited "his ability to tell compelling stories that both inform and inspire business leaders toward profitable action."
Mathis Wackernagel, Co-Creator of the Ecological Footprint and President of Global Footprint Network, an international sustainability think-tank. Global Footprint Network focuses on bringing about a sustainable human economy in which all can live well within the means of one planet. It proposes the Ecological Footprint, which measures how much nature we use and how much nature we have, as a tool for bringing ecological limits to the center of decision-making everywhere. Mathis has worked on sustainability on six continents and lectured at more than a hundred universities. He previously served as the director of the Sustainability Program at Redefining Progress in Oakland, California, and ran the Centro de Estudios para la Sustentabilidad at Anáhuac University in Xalapa, Mexico. Mathis has authored or contributed to over 50 peer-reviewed papers, numerous articles and reports and various books on sustainability.
These four sustainability leaders will join the current members of the ISSP Sustainability Hall of Fame who were installed during ISSP's inaugural conference in Portland, Oregon in September 2011, and at ISSP Conference 2013, held last May in Chicago. Current members of the ISSP Sustainability Hall of Fame are:
Ray Anderson, Founder and Chairman of Interface, Inc., one of the corporate pioneers in sustainability and a former co-chair of the President's Council for Sustainable Development.
Alan AtKisson, President and CEO of AtKisson Group, consultants who provide expert advice, analysis, and strategic support to world-leading organizations in sustainability.
John Elkington, Founding Partner & Executive Chairman of Volans, a future-focused business working at the intersection of the sustainability, entrepreneurship and innovation movements.
Gil Friend, President and CEO of Natural Logic, Inc., a leading sustainability strategist and a leading contributor to systems thinking.
Hazel Henderson, Founder of Ethical Markets Media, LLC and the creator and co-executive producer of its TV series.
Amory B. Lovins, Chairman and Chief Scientist of Rocky Mountain Institute, a non-profit research and educational foundation that aims to foster efficient and sustainable use of resources.
L. Hunter Lovins, President and Founder of Natural Capitalism Solutions, which educates senior decision-makers in business, government and civil society to restore and enhance the natural and human capital while increasing prosperity and quality of life.
Karl Henrik Robert, a Swedish cancer researcher and founder of The Natural Step framework for sustainable development.
Bob Willard, a leading expert on quantifying and selling the business case for sustainability.
The ISSP Sustainability Hall of Fame was established in 2011 to formally recognize individuals who have made significant contributions to the field of sustainability and to the professionals who serve it. Nominations are solicited from ISSP members and other sustainability professionals. Criteria for nomination include service, research, innovation, advancement of the case for sustainability, participation in the adoption of sustainability in sectors or regions, and/or contribution to the definition of the profession. After the nomination period is closed, the ISSP Board of Directors reviews the candidates and then votes on the inductees for the current year. At the conference, each new inductee will be honored by their peers for their accomplishments in the areas of experience, education, innovation, reach, publication and service to the industry.
About ISSP
The International Society of Sustainability Professionals (ISSP) is the world's leading professional association for sustainability professionals. ISSP is a member-driven association committed to moving the profession of sustainability forward through building strong networks and communities of practice. Webinars, online courses, sustainability certificate, sustainability professional's body of knowledge, special reports, resource directories, and salary surveys are just a sampling of the rich content offered to members. Formed in 2007, ISSP boasts more than 700 members from every region of the world. Members share resources and best practices, and develop themselves professionally. For more information about ISSP, its offerings and ISSP Conference 2014, please visit http://www.sustainabilityprofessionals.org.