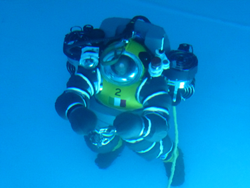 The HARDSUIT System upgrades are focused in two main areas; 1) Thruster and buoyancy systems 2) Electronics and communications systems.
Burnaby, BC (PRWEB) May 31, 2014
OceanWorks International is pleased to announce a major system upgrade of the Italian Navy's Atmospheric Diving Systems (ADS). Taking advantage of thruster improvements and upgraded electronic systems, the enhancements to the HARDSUIT System are focused in two main areas;
1) Thruster and buoyancy systems
2) Electronics and communications systems
Oceanworks capitalized on the improvements in performance and reliability of subsea thruster systems by developing a proprietary subsea thruster power unit. To accommodate the change in physical configuration and weight distribution of this system, OceanWorks packaged the thruster upgrade with a redesigned buoyancy and backpack system. Additionally, OceanWorks has addressed requirements for updated electronic, communication, power distribution, and support equipment.
Advantages to the Italian Navy will be Hardsuits with increases in performance, and reliability, and a reduction in technician training requirements.
OceanWorks is an internationally recognized subsea technology company specializing in the design and manufacture of manned / unmanned subsea systems and specialized equipment for military, oil and gas, scientific, and other marine markets. OceanWorks has been at the cutting edge of deep submergence and diving technology, operations, and support for over 20 years. We look forward to providing subsea engineering solutions to our customers for years to come.
For more information on OceanWorks International products and services, please visit our website at http://www.oceanworks.com/ or contact us at marketing(at)oceanworks(dot)com.