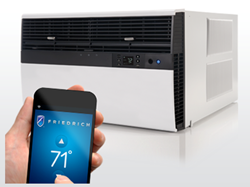 San Antonio, TX (PRWEB) June 02, 2014
San Antonio-based Friedrich Air Conditioning is pleased to announce that it will do its part to help consumers save money while offering CPS Energy another tool to maintain power on the grid this summer through the smart-grid ready Kühl room air conditioner.
Customers who purchase a Kühl air conditioner at Conn's stores and enroll in the CPS Energy Kühl AC Program at http://www.cpsenergysavers.com can receive up to $500 in savings, in the form of instant rebates and utility credits.
"The Kühl is popular across the country for its energy-saving features with a mobile app, so we are very excited that it can make a difference in our hometown thanks to this partnership with CPS Energy and Conn's," said Wink Chapman, Friedrich vice president of sales and marketing.
Residents can purchase a Kühl air conditioner at San Antonio Conn's stores at a discount price and also get a free wireless FriedrichLink adapter ($49 value) that enables residents to remotely control the A/C via mobile app, while also participating in the utility's demand response program.
During conservation events, participating Kühl air conditioners will run at slightly higher settings that maintain cool and comfortable temperatures. Residents can always opt out of this voluntary program.
"Demand response saves consumers money and rewards them for reducing load at peak times," said Ricardo Luna, Manager of Demand Management and Analysis at CPS Energy, the largest municipally owned utility in the United States. "We're proud that the Kühl AC Program uses clean technology developed right here in San Antonio."
Using energy efficiency technologies, CPS Energy has set a goal of reducing overall demand by 2020 by 771MW, saving the consumers money and eliminating the need for a new power plant.
Friedrich is the first HVAC manufacturer to design window air conditioners featuring wireless technology that allows consumers to remotely control and adjust units via smartphones or tablets. The units come in A/C only and A/C + heat pump versions with capacities of 5,200 to 36,000 Btu/hr.
Friedrich also partnered with ThinkEco to curtail energy use through Con Edison's coolNYC demand response program in New York City. Visit friedrich.com to learn more about its revolutionary energy management and HVAC products.
About Friedrich
Founded in 1883, Friedrich has manufactured room air conditioners since 1952. Friedrich is a leading manufacturer of air conditioners and other home environment product. Constructed of the highest quality components, Friedrich products are built to exacting standards and are among the quietest, most highly featured and most energy-efficient available. If you demand the best, it has to be a Friedrich.
###