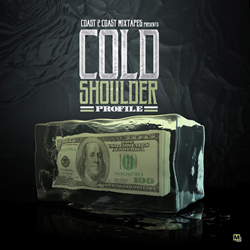 To me, music is exactly what it is: music.
Miami, FL (PRWEB) June 02, 2014
Coast 2 Coast Mixtapes announce the release of the "Cold Shoulder" mixtape by Profile. The 19 track project is currently available for download. The mixtape is presented by Coast 2 Coast Mixtapes and hosted by Coast 2 Coast CEO Lil Fats.
Profile is an emcee from Virginia, born in 1987. As a child of the late 80's early 90's, Profile could not avoid the seduction of the golden era of Hip Hop, experiencing the rise and fall of this beloved genre. Profile's name is derived from one of his mantras for living a life of excellence, an acronym for Progress Requires Overwhelming Focus In Life Everyday. One of the chosen few to possess a talent for deciphering those messages embedded in the nuances of melody and rhyme, Profile is nothing short of prolific smashing the limitations of traditional lyricism. Personally taking on the responsibility for the rebirth of true Hip Hop Profile is the full package artist.
Focused on evoking feeling from his listeners Profile's dedication to creating music that is truly recognized as art finds him experimenting with unique instrumentation and blending of many different genres. Conveying his strong personality and the limitless power of the mind through his music Profile has won the support of his community developing a cult like following that has impacted the music scene in Virginia as a whole.
Profile's latest release "Cold Shoulder", which is presented by Coast 2 Coast Mixtapes and hosted by Lil Fats, is a perfect example of Profile's impressive vibe and ability to bring the listener into his world. This mixtape project presents his alter ego is a way that allows him to express his fears and insecurities enabling Profile to address his deepest emotions and thoughts by releasing them to the world than judging them from a fresh perspective. Capturing the struggle and need to pursue one's dreams, these universal themes authentically connect each and every one of us as human beings doing the best with what we have to achieve success, find happiness, and flourish. Using a variety of beats from poppy radio ready production to electronic dance rhythms, Profile cannot be contained in one genre. Experience how Profile breaks all the boundaries and is full of surprises for yourself, give "Cold Shoulder" a full listen and keep up with Profile on his Twitter page at @iknowpro.
About Coast 2 Coast Mixtapes
Coast 2 Coast Mixtapes are the most widely distributed mixtapes in the world, with over 100 million downloads/plays generated by over 200 volumes officially hosted by major artists. Coast 2 Coast has a solid reach in the new music industry with a digital magazine, DJ coalition, industry tips blog, yearly convention, and more. Coast 2 Coast Mixtapes represents a unique opportunity for artists of all urban genres, from major to indie. For more information, visit http://www.coast2coastmixtapes.com.