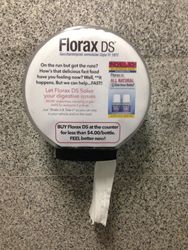 Westchester, NY (PRWEB) June 02, 2014
InStall Media, an innovative company who provides transparent toilet paper dispensers with customizable ad inserts, has announced a partnership with Hebron USA, a leading health and wellness company and provider of digestive and respiratory dietary supplements.
Through the utilization of branded toilet paper dispensers, InStall Media helps its clients reach a captive audience in a vast network when they are most in need of their clients' products. The relationship will offer an opportunity for Hebron USA to reach consumers throughout the Westchester, NY, and Fairfield, CT, areas. Hebron USA, who manufactures and distributes Florax DS Diarrhea Relief, will have access to the network of over 300,000 people per month in 90 gas station restrooms across the area.
"We thought to ourselves, 'When is the best time to reach a consumer?'" co-founder Bryan Silverman, said, "Well when they need your product. That's why we knew Hebron USA's Florax DS Diarrhea Relief was a perfect match for our platform." Vic Peroni, President of Hebron USA, said, "Florax DS Diarrhea Relief is proven to provide relief of occasional diarrhea quickly and safely for everyone ages 1 year and up. In many cases, when someone is using a gas station restroom, it's an emergency and you need something that is fast-acting."
InStall Media and Hebron USA have teamed up, as the synergy the teams have is quite obvious. Florax DS Diarrhea Relief has been proven to provide relief of occasional diarrhea within 4 hours. It is an all-natural probiotic drink that is as easy as Shake it & Take It and safe for anyone ages one year and up. Travelers are constantly on the go, and having a product like Florax DS Diarrhea Relief available when they need it looks to be a great opportunity for all parties involved.
To learn more about partnering with InStall Media, please e-mail Jordan Silverman at jordan(at)installmedia(dot)com.
About InStall Media
Started by Jordan Silverman, a recent graduate of the University of Michigan, and his younger brother Bryan, currently a student at Duke University, InStall Media seeks to revolutionize the outdoor advertising industry with unique restroom advertising. Their transparent toilet paper dispensers contain custom-designed inserts that can also be changed to reflect different advertising campaigns.