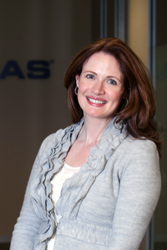 I'm thrilled to have the opportunity to work even more closely with the SIRAS Executive Team as we lead the company forward in the omnichannel marketplace.
Redmond, Washington (PRWEB) June 03, 2014
SIRAS, the Redmond-based subsidiary of Nintendo of America Inc. that provides retailers and manufacturers cloud-based services for tracking and authorizing sales and returns of products sold through major retail stores and Web sites, announced that Maridee Maraz, 38, has been promoted from director to vice president of sales and marketing. Maraz leads the company's marketing planning and operations and also oversees the SIRAS sales team's positioning and delivery of SIRAS solutions to clients and partners, both domestically and internationally. Since 2012, she has been a member of the company's Executive Team. Maraz's duties include leading the committee's efforts to develop and market new retail services for clients.
Maridee Maraz joined SIRAS in 2006 as National Sales Manager (the sole manufacturer-sales position at the time) and has grown the department to include outside and inside manufacturer sales and account management. In her tenure leading the sales department, SIRAS has executed agreements with more than 85 manufacturer clients and she has developed patented solutions to resolve client challenges. Today more than 100 leading consumer products brands are activated on the SIRAS program.
"Maridee represents the best qualities of SIRAS, and that's why I'm so pleased to have her assume this leading role in our organization," said Peter Junger, SIRAS's president. "She's an innovator, as her contributions to our patent list make clear. She and her sales team are committed to our customers, understanding their needs, and designing solutions that meet their needs for sales, returns management, product lifecycle tracking, and RTV operations. I'm looking forward to Maridee continuing to spearhead our strategic sales and marketing efforts as we develop new solutions to meet the evolving needs of manufacturers and retailers around the world."
"I'm thrilled to have the opportunity to work even more closely with the SIRAS Executive Team as we lead the company forward in the omnichannel marketplace," said Maraz. "Retailers and manufacturers face many challenges today, because of changing consumer behaviors, new mobile technology, the growth of online sales, and ever more crafty forms of returns fraud and retail crime. At SIRAS, we're dedicated to helping customers improve the quality of their interactions with consumers, while also reducing costs, optimizing returns processes, growing margins, and fighting crime. As vice president, I'll have the pleasure of tackling these problems with a smart, dedicated team and a great and growing community of customers."
About SIRAS.com
SIRAS (http://www.siras.com) is the pioneer in Electronic Registration (OmniTrace™) and comprehensive return-validation methodology (ReturnFlex™), which allows participating retailers and manufacturers to optimize their retail business operations, and to provide customers with a seamless omnichannel experience. SIRAS helps clients improve customer satisfaction, protect and elevate their brands, track products, reduce returns and fraud, protect inventory, recover stolen products, identify counterfeit goods, validate warranties, and improve forward and reverse logistics operations. By tracking each product throughout its sales lifecycle by its unique "fingerprint" rather than by customer data, SIRAS respects and preserves consumer anonymity. SIRAS provides valuable tools for its manufacturing, retailer and law enforcement partners to optimize operations, resolve investigations, improve visibility, business intelligence and forecasting, and improve the consumer experience.
Trademarks are properties of SIRAS. SIRAS technology is protected by one or more U.S. patents. All other trademarks are registered by their respective companies.