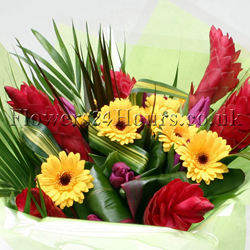 (PRWEB UK) 1 June 2014
Late spring and summer are the time for gerberas, when they are in season, blooming and beautiful to have inside, at work or home, or sent to friends for the perfect surprise. London florists at same day flower delivery company Flowers24Hours know that gerberas, the gift of summer that comes wrapped in a bouquet, are the perfect way to brighten up a room, a home or anyone's day.
Gerberas are hardy and long lasting, and are the perfect floral decoration to liven up kitchen countertops, tables, dressers and sunny windowsills.
Gerberas are type of daisy—also known as the "African Daisy"—and were first discovered in South Africa in 1889. They are attractive to honeybees and butterflies—and, of course, humans. In fact, gerberas are the fifth most popular cut flower in the entire world. Their blossoms look quite similar to sunflowers, actually, with wide blooms and delicate, thin layers of petals.
The gerbera signifies innocence and purity, delight and good cheer. The colour of gerberas match the hot, vibrant character of the summer months they embody, especially June, with blossoms that are bright pink, salmon and ruby red, as well as sunny yellow, orange and magenta. Gerberas also come in cooler colours, like cream and white pastels.
For customers wanting a warmer, more passionate palette in their flower arragement, UK florists at flower delivery shop Flowers24Hours can turn a bouquet of gerberas into a wonderfully romantic surprise. They can also choose to have delivered with their flowers a bottle of red wine or champagne, gourmet chocolates, a stuffed bear or I Love You heart-shaped balloons.
Another reason for the popularity of gerberas when buying flowers is that they look great in both solid- or multi-colored arrangements. Held together in a vase or gift-wrapped bouquet, an arrangement of gerberas in full bloom makes a striking and inspiring image. Some of Flowers24Hours favorite arrangements are the Gerbera Kiss, Dreamtime in Oz, Tranquility and Baby Boy Bouquet.
London florist and online flower delivery shop Flowers24Hours also delivers mixed bouquets and baskets of gerberas daisies that are paired with lilies, roses or other flowers. So now customers can choose their favorite color and their favorite flower to go with these natural beauties.
Naturally, as gerberas are simple yet attractive flowers, they make perfect gifts for a variety of occasions. They are the ideal flower for birthdays and graduation gifts, to say thank you or congratulations, as get well gifts and the sincerest apologies.
Nothing will add cheer to a room or naturally perk up the day and the mood quite like gerberas daises. Choose any color or size of arrangement—small, medium or large—and order online. UK florist and popular online flower shop in London Flowers24Hours will deliver a fresh bouquet for same day flower delivery in London, or next day flower delivery throughout the UK.