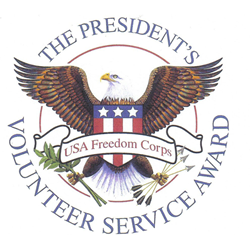 A being is only as valuable as he can serve others.
Clearwater, Fla. (PRWEB) May 31, 2014
There were some 250 people there, of all faiths, ages and backgrounds. Fifteen groups and individuals received the President's (U.S.) Volunteer Service Awards which was instituted by the President's Council on Service and Civic Participation as a way to thank and honor Americans for their volunteer service. This was the first year that the Church of Scientology Flag Service Organization became a certifying organization for these awards.
Each award winner was presented with a letter from the President of the United States, a certificate with each group's or individual's name and either a bronze, silver or gold pin depending on the numbers of volunteer hours the winners delivered in the past year. The award winners were:

Criminon Florida, a non-profit organization whose primary goal is the rehabilitation of the criminal;
The Clearwater Community Volunteers (CCV): For their hundreds of hours fundraising for, organizing and carrying out Clearwater's own Easter Egg Hunt and Winter Wonderland;
The Clearwater Martin Luther King Neighborhood Coalition, a diverse group of citizens who saved the Clearwater MLK Community Center from demolition;
The Community Learning Center, whose tutors helped some 360 students to reach their academic goals;
The East Coast Golden Age Theater, whose actors provide free performances for the community, schools, and senior citizens, encouraging and inspiring a love of reading in young audiences;
The Foundation for a Drug Free World Florida for educating thousands on the Truth About Drugs through their materials, seminars and other events;
The Stop the Violence Coalition, St. Petersburg that is helping to reduce crime in high-risk neighborhoods;
The Way to Happiness Coalition of Florida that provides character building education to thousands in Tampa Bay;
The Washburn Academy Volunteer Youth Core for their work with Feeding the Hungry Tampa Bay, providing filled backpacks for children and being all-around volunteers for many different organizations;
Youth for Human Rights Florida, whose volunteers distributed human rights materials but have been canvassing legislators to create legislation which will allow the teaching of the Human Rights Declaration in schools;
The volunteers of Shriners' Hospital for Children Tampa who help to interact with parents and the young patients and perform all manner of behind-the-scenes tasks;
7-year-old Andi Menaul, who has not only been volunteering every week for the past four years but has created her own youth group teaching thousands about the dangers of prescription drugs;
19-year old Humberto Perez, an architectural student volunteers relentlessly tutoring neighborhood children and helping in the community;
David Albritton: chair, and member of many local boards who has been working to help Clearwater's neighborhoods and its downtown; and
Brigadier General Carrie Nero, the first African American female brigadier general who is now retired but continues to help veterans and youth day in and out.
One guest, who is new to Clearwater and attended the event said, "I want more people to know about the wonderful things these volunteers are doing for this city."
The event included a short video of all the volunteers in action and after the presentation there was a barbecue, pool games and entertainment. Every volunteer in each group and all the individual award winners also received an honor roll bearing their names and the quote by L. Ron Hubbard, "A being is only as valuable as he can serve others."
About the Church of Scientology:
The Scientology religion was founded by author and philosopher, L. Ron Hubbard. The first Church of Scientology was formed in the United States in 1954 and has expanded to more than 10,000 churches, missions and affiliated groups, with millions of members in 184 countries. Scientologists are optimistic about life and believe there is hope for a saner world and better civilization, and actively do all they can to help achieve this. The Church of Scientology regularly engages in many humanitarian programs, such as anti-drug campaigns, human rights campaigns and global education programs. Scientology-sponsored charity programs often encourage those receiving the charity to make their own contribution in exchange, by personally helping others who are in need. Additionally, the Church was among the original supporters of the Freedom of Information Act and supports the protection of public interest laws. To learn more, visit http://www.scientology.org.