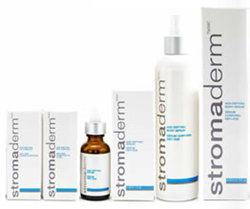 We're thrilled about the much anticipated results of what we'd known to be the highest quality of any face serum on the market.
Anaheim, CA (PRWEB) May 30, 2014
Jusuru International, Inc. announced the introduction of Stromaderm® Age-Defying Body Serum, Eye Complex, and Lip Complex. The three new products join their flagship and sole skincare product, Stromaderm® Age-Defying Hyaluronic Acid and Collagen Peptide Face Serum. The products' preliminary launch occurred at the company's Regional Conference at the Palm Beach Convention Center on March 22, 2014 at which the products received a sell-out response.
At its conference, the company revealed the results of an IRB-approved human clinical trial conducted by a US-based, clinical research organization which showed that daily application of the Stromaderm® Age-Defying Hyaluronic Acid (HA) and Collagen Peptide Face Serum, based upon its key ingredient BioCell Collagen® CG in combination with a proprietary formulation of HA, vitamin E, omega-3 and omega-6 essential fatty acids, reduced the appearance of deep lines by 48.5% and of wrinkles by 19.3%. These visible aging signs were associated with increase in collagen content under the skin surface by 31.7%. This data suggests that Stromaderm® affects the metabolism of collagen in the dermis that is a key to natural and photoaging processes and that the breakdown of dermal connective tissue can be attenuated or delayed by daily use of Stromaderm®.
An intriguing finding was that these effects were already evident four weeks after its application which remained stable through the end of study. It was considered that the significant attenuation of these aging signs was tied to effective nourishment of dermal stroma through a synergy of collagen peptides and HA, key molecular components in BioCell Collagen® CG.
In addition, subjective perception on the effects of Stromaderm® was consistent with their younger-looking appearance objectively evaluated by bioinstruments. The majority of 50 subjects reported positive experience which included enhanced hydration (78.8%), better skin tone and smoothness (72.7%), and attenuated appearance of fine lines and wrinkles both in crow's feet (72.7%) and in global face (69.7%).
"We're thrilled about the much anticipated results of what we'd known to be the highest quality of any face serum on the market. The clinical substantiation and evidence of Stromaderm® inspired the new product extensions which go further to target specific areas of the body, eyes, and lips. The collection complements our nutritional product which amplifies these remarkable benefits" says Asma Ishaq, President of Jusuru International.
In addition to the product line additions and clinical trial study results, Jusuru International also announces several technological advances including mobile applications, website enhancements, and rebranding of its product lines including new packaging due in June.
About the company:
Jusuru International, Inc., headquartered in Anaheim, California, is the company behind liquid BioCell Collagen®, a new generation of nutraceuticals for healthy aging, active joints and younger-looking skin. Jusuru Life Blend, the company's flagship liquid nutritional supplement, is backed by 37 clinical studies, 6 US and international patents and has received numerous industry awards. Jusuru is committed to delivering the most advanced nutritional supplements and skincare made with the highest quality ingredients. Its executive team supports the company's rapidly expanding network of independent representatives with decades of experience in health, science and business. Jusuru is a proud member of the Direct Selling Association (DSA).
For more information on Jusuru products or the company, please contact Jusuru International, Inc. at (888) 862-3968 or visit http://www.jusuru.com.