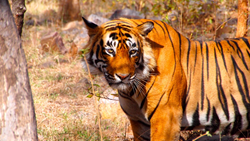 It is just a brilliant experience to see this beautiful gigantic royal species in its natural habitat.
Ranthambore National Park, India (PRWEB) May 31, 2014
The Ranthambore National Park closes each year from June to October. It is best for adventure travelers to plan a visit between November and May, during the dry season when it is easier to see the tigers. The weather is much cooler and more comfortable in the winter and spring.
Visitors to the reserve can expect to take an early morning and afternoon Jeep drive to the park. The Reserve is proud to be one of the country's leading protectors of the tigers. In addition to tigers, visitors may see crocodiles, wild boar, hyena, leopards, sloth bears, and over 300 species of birds over 240 square miles of breath-taking scenery.
Those interested in India tourism often see the tigers as part of the greater India Golden Triangle Tour, which includes a visit to Delhi and the Taj Mahal and Jaipur, the Pink City of India. Visit TripTrist Travel Planner to compare over 50 different tours from 7 different tour operators all in one place.
The TripTrist Adventure Travel Search Engine does what few others do – they put tour information from different worldwide adventure travel tour companies side-by-side so that you can easily compare prices, dates and itineraries. Use the search feature to find just the right trip and contact the tour company directly to book.
Photo by Björn Ognibeni