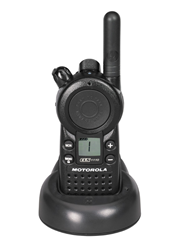 Jackson, MS (PRWEB) June 10, 2014
As an authorized reseller of Motorola business two-way radios, Forestry Suppliers, Inc. often receives questions about the benefits of using two-way radios rather than mobile phones. While mobile phones have replaced two-way radios in some markets, significant benefits remain for users of two-way radio in markets like engineering, construction, forestry, golf courses, landscape management, and education.
For industries that want to compare Motorola business two-way radios to mobile phones for their communication needs, here are five reasons why two-way radios may be the better choice.
1. Continued Service During Emergencies. It's National Safety Month, and two-way radios can be an important safety tool for your organization year-round. In the face of an emergency or disaster, two-way radios continue to function even when mobile and land lines can fail. Plus, you can contact every team member instantly without dialing separate phone numbers.
2. Durability. Two-way radios are designed to be lightweight but extremely durable. There's no need to purchase an additional protective case. In fact, most models are built to military and IP specs. When you drop two-way radios, the polycarbonate housing does not crack or break, which is important whether you are in an office or in the field. Plus, battery life for industrial two-way radios spans from 12-26 hours, depending on the model.
3. Cost-Effective. With two-way radio communication, businesses can use resources efficiently and productively. Two-way radios do not require monthly fees, service contracts, or calling minutes. Businesses using two-way radios can also save time, paperwork, and money by avoiding employee cell phone reimbursements. Finally, in most industries, teams and work shifts cut costs by sharing radios, rather than one radio or phone per employee.
4. Clear Communication. Two-way radios are designed for clear audio communication in harsh conditions, with features such as wind-noise reduction and high durability that meet military standards for resistance to vibration, extreme temperatures and moisture.
5. Easy to Use. With touch-button talk communication, two-way radios are intuitive to use and reduce time needed for training. Models within the RM and RDX series of business radios also feature cloning capabilities that let you copy one radio's settings to additional radios quickly and easily.
Forestry Suppliers is a Motorola authorized business two-way radio reseller offering RM Series, RDX Series and CLS Series business radios and has carried Motorola products for more than 30 years. For more information on their selection of radios, contact their Technical Specialists at 800-430-5566 or visit them online.
Online Special! Now through June 30, 2014, customers can get a free Motorola RM Series or CLS Series business radio or a 6 bank multi-unit charger after purchasing six radios of the same series. See full details online at http://MotorolaSavings.com.
About Forestry Suppliers:
Forestry Suppliers, Inc. is a worldwide supplier and distributor of general-use and specialty products and equipment for natural resource professionals. Their annual catalog and website contains a complete selection for a wide range of outdoor industries, including forestry, agriculture, arboriculture, landscaping, horticulture, grounds maintenance, surveying, engineering, remote sensing, vegetation management, construction, home inspection, utilities, wildland fire fighting, geology and mining, archaeology, anthropology, parks and recreation, golf courses, wildlife management, fisheries and aquaculture, earth science education, environmental engineering, hazmat, and remediation.
Founded in 1949 by Jim Craig, former Mississippi State Forester, Forestry Suppliers, Inc. maintains a distribution warehouse and administrative headquarters in Jackson, Mississippi. For more information about Forestry Suppliers, visit them online at http://www.forestry-suppliers.com.
MOTOROLA, MOTO, MOTOROLA SOLUTIONS and the Stylized M logo are trademarks of Motorola Trademark Holdings, LLC and are used under license. All other trademarks are the property of their respective owners. © 2014 Motorola Solutions, Inc. All rights reserved.