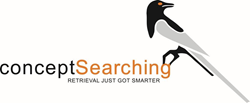 This webinar will focus on best practices for planning and deploying social tagging and collaboration enhancements within the enterprise.
McLean, VA, US and Stevenage, UK (PRWEB) June 03, 2014
Concept Searching, the global leader in semantic metadata generation, auto-classification, and taxonomy management software, and developer of the Smart Content Framework™, is pleased to co-sponsor the webinar 'Collaboration and Social Networking in SharePoint and Office 365' with the global consulting firm Protiviti, taking place on June 24th at 11:30am – 12:30pm EDT.
Registration is now open for this informative webinar, with expert guest speaker Maggie Swearingen, Experience Architect at Protiviti.
Based on results from a Concept Searching survey, the SharePoint and Office 365 community has expressed a growing interest in implementing and deploying social networking applications and collaboration enhancements, to improve productivity and decision making. According to most studies, social media applications are now generally accepted by upper management, but end users are reluctant to change, and are slow to embrace social applications.
Collaboration also requires a cultural change. Although the benefits are more readily realized by end users, a change in mindset is still required, to rely less heavily on email as the primary mode of communication and become more interactive in real time, to overcome boundaries of time and distance. One study indicated most business users will not communicate more than 50 feet away from their desk with an unknown person.
This webinar will focus on best practices for planning and deploying social tagging and collaboration enhancements within the enterprise. Topics to be covered include:

How to quantify a collaboration or enterprise social media application
What are the challenges regarding security, compliance, management, and legal that need to be addressed
How much tagging should be done by the end user or by technology, and what are the benefits and drawbacks
Learn the differences of a SharePoint or Office 365 environment, and how to define an enterprise framework to work in any environment
Understand how to integrate business processes to achieve business results
See how granular identification of content can greatly improve the success of a project
Explore the user interface and hear Term Store/taxonomy best practices for collaboration and knowledge sharing
Understand why the ability to generate conceptual metadata, auto-classify it, and manage it, either through the Term Store or taxonomy management tools, adds value
Learn about different interfaces for social tagging and retrieval of information, and find out the most successful way to present information to engage the end user
Hear real-life case studies of applications that have been developed and deployed
Register here. Registrants will be sent a link to the recording.
This webinar would be of interest to professionals involved in marketing, legal, knowledge management, and human resources, as well as Office 365 and SharePoint architects and administrators.
About Concept Searching
Founded in 2002, Concept Searching is now the industry leader specializing in conceptual metadata generation, auto-classification, and taxonomy management. Platform agnostic, Concept Searching is also a Microsoft managed partner with a Gold competency in Application Development, and offers a complete suite of SharePoint solutions. The award winning technologies integrated with Concept Searching's Smart Content Framework™ encompass the entire portfolio of unstructured information assets in on-premise, cloud, or hybrid environments. Clients have deployed the intelligent metadata enabled solutions to improve search, records management, protection of privacy data, migration, text analytics, eDiscovery, and Enterprise/Web 2.0. Concept Searching is headquartered in the US with offices in the UK, Canada and South Africa. For more information about Concept Searching's solutions and technologies visit http://www.conceptsearching.com.
About Protiviti
Protiviti is a global consulting firm that helps companies solve problems in finance, technology, operations, governance, risk and internal audit, and has served more than 40 percent of FORTUNE 1000® and FORTUNE Global 500® companies. Protiviti and its independently owned Member Firms serve clients through a network of more than 70 locations in over 20 countries. The firm also works with smaller, growing companies, including those looking to go public, as well as with government agencies.
Protiviti is a wholly owned subsidiary of Robert Half. Founded in 1948, Robert Half is a member of the S&P 500 index.
All product and company names herein may be trademarks of their respective owners.