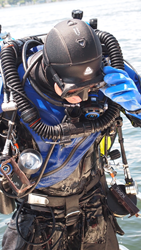 The wrecks include an F4F-4 Wildcat which some suspect crashed as part of a midair collision during a practice dogfight.
Seattle, WA (PRWEB) June 02, 2014
Today Global Underwater Explorers (GUE) and ArrowCat power catamarans jointly announced an exotic mission to bring exposure to underwater conservation and exploration. The mission is to dive on seven deeply sunk airplane wrecks at the bottom of Lake Washington using a single boat and minimal crew and to do it all in a 14 hour span.
"The mission is considered fairly technical because a majority of the dives are sufficiently deep to require breathing mixed gases and multiple decompression stops on the ascent. In addition, the bottom targets are relatively tiny under one of the worlds largest lakes and the wrecks themselves are fragile," says Koos du Preez GUE instructor and President of GUE Seattle.
"GUE prides ourselves in the inherent diver safety and technical precision of the GUE diving system that naturally lends itself to the success of these types of missions. We are excited to have the backing of ArrowCat power catamarans because ArrowCat also stands for quality in engineering, efficiency as a way of conservation and they are trying to make the world a better place. ArrowCat is the reason we're able to pull this off, especially that their boats are fast, stable and really set up for diving gives us the ability to execute multiple dives in rapid succession."
"ArrowCat is excited to be backing this project for GUE because as a Dive Master I value the precision and discipline of GUE and their approach to research, preservation and safety," says Kim Stebbens President of ArrowCat Power Catamarans.
The wrecks include an F4F-4 Wildcat which some suspect crashed as part of a midair collision during a practice dogfight, a TBF-1 Avenger, PB4Y-2 Privateer, PV2 Harpoon, SNV-2 Valiant, FG-1D Corsair and PBM-5 Mariner which sank after it hit a dock while taxiing on the water to a mooring buoy.
The dive will require a handful of divers to make multiple dives to depths upwards of 200'. The shallowest dive, and the only dive less than 100' is the PBM5-Mariner just North of the Renton, WA airport runway.
The world record attempt and application will be for diving all seven wrecks in one day from a single boat with a small team. Exact details will be released after the attempt because of the need for uninterrupted execution of the mission. It is scheduled for sometime in early June and details and results will be published immediately after.
GUE (Global Underwater Explorers) is an international diving organization that exists to safely explore and protect the underwater world and to improve the quality of aquatic education and research. GUE does this by developing safe, skilled, and knowledgeable divers, promoting underwater research while actively pursuing global underwater exploration. GUE is a 501(c)(3) non-profit organization and focuses on providing these comprehensive aquatic resources to the public. For more information visit http://www.globalunderwaterexplorers.com.
ArrowCat Power Catamarans is a leading NMMA certified builder of power catamaran boats designed by world renowned Roger Hill and engineered by world renowned Gurit (formerly Hi-Modulus). ArrowCat's are hand crafted by ArrowCat Marine. Founded in 2007 ArrowCat are proven on seven seas and four oceans and have achieved CE category B. ArrowCat US Base of Operations is 2525 Broadway, Suite 3302, Everett, WA 98201 For more information visit http://www.ArrowCat.com or call (877) 277-6999.