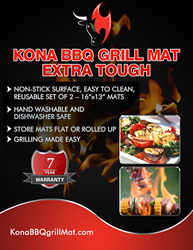 For grill mats to apply grill marks to food, they have to be thin... The problem with competing BBQ grill mats is they have taken this thin requirement to the extreme...
Wilmington, DE (PRWEB) June 04, 2014
Is it the year of the non-stick BBQ grill mat, or simply the start of grilling season that is highlighting one of the hottest outdoor cooking trends to hit the market recently? Nickle's Arcade LLC has announced they are also expanding into the grill accessories market with the coming launch of its latest innovation, a non-stick grilling mat. The grill mat can temporarily withstand temperatures of up to 680 degrees F (360 degrees C) and is the first product in Nickle's Arcade's newly released Kona BBQ tools.
Grill mats are placed directly on BBQ grill grates to prevent the common problems associated with grilling: less than stellar cleanliness, sticking of delicate foods including fish and the inability to grill smaller items which can fall through the cracks.
Many manufacturers of competing grill mats such as Yosi, Miracle and the As Seen On TV brands claim a maximum temperature of 500 degrees. This is equivalent to grilling at a setting of low to medium and indirect heating, according to their label.
"How can you refer to indirect heating of your food as grilling?" Jamie Harris, Managing Member of Nickle's Arcade asked. "All too often with these TV promoted products, you discover an excellent concept but poor execution, as is the case here. Unfortunately with barbeque grill mats, some consumers have gotten poor results due to the flimsiness of existing products."
When asked what materials allowed the Kona grill mat to withstand direct high heat placement on a grill, Mr. Harris claimed, "nearly all grill cooking mats are made from the same two base materials, fiberglass fabric and PTFE." PTFE is commonly known to the mass market as TEFLON®, which is manufactured by E. I. du Pont de Nemours and Company. "The difference in quality is the thickness of the fabric and the amount of PTFE impregnated into it," Mr. Harris continued.
PTFE coated fiberglass is not a new material. It has been used for many years to insulate against heat transfer and protect common industrial components. It is also well known for slip resistance, chemical resistance, UV resistance and is approved by the FDA for food contact.
The difference with a BBQ grill mat from their industrial counterparts is heat transfer which is required for grilling mats to cook. Blocking the heat would make a poor cooking surface and be detrimental to the grilling process. Therefore the grill mats have to be thin enough to allow heat to transfer, yet be durable enough to last a long time, as advertised. Maintaining the inherent non-stick properties for the long term is vital for the success of the product.
"In order for grill mats to char or apply grill marks to food, they must be thin. The problem with competing products is that they haven taken things to extremes," according to Mr. Harris.
Consumers who have a tendency to leave these thinner mats on the grill and not move them around frequently tend to have a better experience than users who move the item back into the home, according to many comments in the review section on Amazon.com.
A further survey of the popular grilling mats on the market today revealed thickness ranges of 0.08mm to 0.2mm. In comparison the average thickness of a sheet of computer paper is 0.1mm. Nickle's Arcade's Kona grill mat is at least twice as thick as all the other common brands and four times thicker than a typical sheet of paper. Mr. Harris claimed, "You can instantly feel the difference in thickness and weight between the Kona mat and everyone else, but even more important than the thickness of the fabric is the quantity of PTFE applied. The Kona grill mat contains an industry leading 60% PTFE. That is why we are guaranteeing Kona BBQ grill mats for 7 years, which is unheard of."
Grill mats are also beginning to find their place inside the home. Baking is an easy transition to envision. These mats can be cut to shape with scissors and used for microwave liners, skillet bottom liners or to wrap a sandwich for "grilling" in a toaster.
Nickle's Arcade is introducing Kona BBQ grill mats officially to the market on June 21st, first day of summer exclusively through Amazon. However, Nickle's Arcade has quietly started a soft launch with Amazon.com and turned on coupon code, HK4J6UX8 which enables buy 2 get 1 free. For those less patient consumers, they can visit the Amazon website, type "GRILL MAT" in the search box, and select "Patio, Lawn and Garden" to find the product listing. Look for the "extra tough flaming bull" Kona BBQ grill mat label.