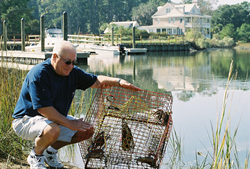 Events in America's Happiest Seaside Town
Beaufort, South Carolina (PRWEB) June 02, 2014
Tradition is an invisible torch that seems to get brighter as time goes on; passed on from generation to generation, ingraining a lifetime of memories with family and friends to be cherished, and yet again, passed on to children and grandchildren.
The community of Beaufort South Carolina radiates this lifestyle and the friendly people of the Lowcountry have carried the torch since 1956.
The 59th Annual Beaufort Water Festival is here again and the residents of Beaufort couldn't be more involved. The Lowcountry festival is the longest volunteer run festival in history and the heart and soul that goes into it, is truly magical. Over 400 volunteers work long hours to bring the festival to life, loyal contributors like the Beaufort Lions Club, who have coordinated the parade since the first year in1956 have made inexpensive first class entertainment possible. The Beaufort Water Festival is a series of events that celebrate group sports, arts and crafts, music and dance. The opening ceremony begins at 7pm on July 18th. A free shuttle service will run from Beaufort County Government Center to the festival where the residents will kick off the celebration with the Paris Island Marine Band and a show of fireworks at dusk less than 10 minutes from Coosaw Point, Real Estate Scorecard's 2013 Happiest Community of the Year.
The festival takes place at Waterfront Park and other convenient locations and continues until July 27th. The Festival Arts & Crafts Market will run from 9:00a- 7:00pm everyday at The Promenade at the Waterfront Park.
Here is what is in store for the 59th Annual Beaufort Water Festival:
SATURDAY JULY 19th
Raft Race: 8:00a- 11:00a
Bocce Tournament: 8:00a- noon
Badminton Tournament: 9:00a
Croquet Tournament (Golf Croquet): 9:00a
Sponsors Expo: 10:00a-2:00p
Coastal Education Expo: 11:00a- 3pm
Air Show: Noon- 3:00p
Children's Toad Fishing Tournament: 10:00a- noon
Shrimp Boat Tours: noon-4:00p
Concert in the Park: 8:00p
SUNDAY JULY 20TH
Croquet Tournament (Golf Croquet): 9:00a
River Rally: 9:00a- 3:00p
Shrimp Boat Tours: noon-4:00p
Children's Day: 11:00a- 3:00pm; games, activities, shows prizes and bounce houses
Teen Dance: 6:00p- 8:00p
MONDAY JULY 21st
Motown Monday: 8:00p
TUESDAY JULY 22nd
Salsa Tuesday: 8:00pm
WEDNESDAY JULY 23rd
Croquet Tournament (9 Wicket): 9:00a
Talent Show: 7:00p
THURSDAY JULY 24th
Low country Supper: 6:00p- 7:30p
Croquet Tournament (9 Wicket): 9:00a
FRIDAY JULY 25th
Bed Race: 5:00p
River Dance: 8:00p
SATURDAY JULY 26th
Dragon Boat Race Day: 8:00a- 4:00p
Water Festival Grand Parade: 10:00a- noon
Non-Profit Expo: Noon- 4:00p
Commodores Ball: 8:00p
SUNDAY JULY 27th
Blessing of the Fleet & Parade of Boats: Noon- 2:00p
Sponsored by local businesses, big and small, The Annual Beaufort Water Festival is a long running tradition and as long as a community run by family is in charge, the torch will keep burning. Whether folks are joining the Bed Race held at the corner of Bay Street and Harrington, where town folk festively decorate a bed on wheels and compete for the win or are a commodore of the past receiving praise and thanks from the whole community for the contribution to such a long running tradition, Beaufort is a town of memories and a wholesome place to raise a family, retire or purchase a secondary home. And, with neighbors who work hard and volunteer to keep a valuable tradition alive, imagine how well kept neighborhoods like Coosaw Point must be.
Take a peek at Coosaw Point homes.
A Lakeside Pavilion with an outdoor fireplace prompting friends and family to enjoy the mild Beaufort weather, an 11,000 square foot seaside River Clubhouse to gather for celebrations, walks in the community park, and authentic crab shack; Coosaw Point has so many wonderful perks and amenities, the fond memories to be made are endless!
Edith and Mark, residents of Coosaw Point were greeted by 3 girls, ages 8-10, with homemade blueberry muffins when they moved in; talk about being floored, and they were! Real Estate Scorecard has more testimonials just like Edith and Marks expressing the enjoyment of community support never experienced before Coosaw Point.
Robert and Anne Gallant are one of the community developers, not only do they live in Coosaw Point, but they are deeply engaged with the community and always accessible to discuss design. Only 85 homes have been built with 400 on the table. Home sites begin at 30k and an array of different style homes start around 300k. Coosaw Point is a classic American-style neighborhood on the rise.
Baby Boomers searching for where to retire in South Carolina with a ton of community involvement, the best schools in the county and a lifetime of friends, will find Coosaw Point a Lowcountry treasure.
Call Coosaw Point direct at 843.522.0041 to schedule a tour.
About Real Estate Scorecard:
Real Estate Scorecard writes unbiased real estate reviews providing in-depth information about popular gated communities in Florida, Georgia, North Carolina, South Carolina and Tennessee, all in an effort to help people discover where to retire in the Southeast.
Website: http://realestatescorecard.com