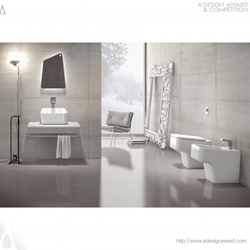 Como, Italy (PRWEB) May 31, 2014
A' International Design Competition is pleased to announce that the project Up by Emanuele Pangrazi has been acknowledged with the prestigious Platinum A' Design Award at Bathroom Furniture and Sanitary Ware Design Competition selected as the winner by the respected judges of the A' Design Awards & Competitions within numerous submissions.
About "Up" Bathroom Collection
Emanuele Pangrazi, the designer of the award winning bathroom collection says, "Up, bathroom collection shows how a simple concept can lead to a strong design. The initial idea was to improve the comfort of users by slightly tilting the seating planes, however this idea turned into the main design theme and is present in all the elements of the collection. The main theme and the strict geometric relationships give the collection a contemporary style in line with European taste and Italian design." Learn more at: http://www.adesignaward.com/design.php?ID=30060.
The Platinum A' Design Award
The Platinum A' Design Award is a prestigious award given to top 1% percentile designs that get the highest votes in A' Design Competition where entries are peer-reviewed and anonymously judged by an expert jury panel composed of academics, design professionals and press members. Entries are voted on aspects such as functionality, ergonomics, engineering, presentation, innovation, usability, technology, and any other specific points to determine the best designs. Laureates are granted the A' Design Prize which not only includes the award trophy, certificate of excellence, yearbook, and gala-night participation but also a series of PR and publicity services to promote the awarded designers such as designer interviews.
About A' Design Award and Competition
Annually and internationally organized, A' Design Award and Competitions were established to promote and recognize best designs, design concepts and design oriented products worldwide in order to create a global awareness for good design. The A' Design Accolades are organized in all creative and design disciplines to push designers and brands worldwide to come up with superior products and services that benefit society. Learn more and checkout previous A' Design Award winners at http://www.adesignaward.com.