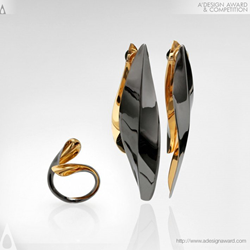 Como, Italy (PRWEB) May 31, 2014
A' Design Award & Competition is proud to announce that "Vivit Collection" designed by Fabio Brazil and Henrique Murgel has won the prestigious Platinum A' Design Award in Jewelry, Eyewear and Watch Design Competition. "Vivit Collection" was highlighted as one of the winners by the international jury panel of the A' Design Awards & Competition within a great number of nominations.
About Vivit Collection
Brazil & Murgel Contemporary Jewelry, the brand behind the award winning collection, explained their work: "Inspired by forms found in nature, Vivit Collection creates an interesting and curious perception with its elongated shapes and swirling lines. Vivit pieces consist of bent 18k yellow gold sheets with a special black plating on the outer faces. The leaf-shaped earrings surrounds the earlobes so that it's natural movements creates an interesting dance between the black and gold – hiding and revealing the yellow gold underneath. The sinuosity of the forms and the ergonomic attributes of this collection present a fascinating play of light, shadows, glare and reflections." Learn more and download high-resolution photos at: http://www.adesignaward.com/design.php?ID=30234.
Project Members for Vivit Collection
Vivit Collection was designed by Fabio Brazil and Henrique Murgel.
Platinum A' Design Award
The Platinum A' Design Award is a prestigious award given to top 1% percentile designs that received the highest scores from the award jury consisting of prominent academics, experienced designers and established press members. Entries are peer-reviewed and anonymously judged following strict evaluation guidelines and criteria. Award winners are granted the A' Design Prize which includes publicity and networking benefits such as design megastore inclusion in addition to the award trophy, certificate, yearbook, exhibition and gala-night invitation.
About A' Design Award and Competition
A' International Design Award and Competition recognize and promotes best designs, design concepts and design oriented products worldwide in order to create a global appreciation and awareness for good design. A' Design Award and Competitions are organized and awarded annually and internationally in multiple categories to reach a wide, design-oriented audience. The A' Design Accolades aims to promote good design practices and principles worldwide. Learn more about the A' Design Awards at: http://www.whatisadesignaward.com.