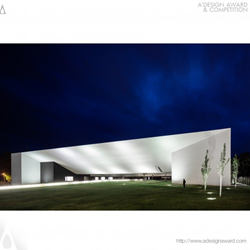 Como, Italy (PRWEB) May 31, 2014
A' Design Award & Competition is pleased to inform that the project "School of Technology" by Nuno Montenegro became winner of the famous Platinum A' Design Award in Architecture, Building and Structure Design Competition chosen as a winner by the international jury panel of the A' Design Awards & Competitions within a great number of other competing designs.
About the "School of Technology" Building Design
Nuno Montenegro, the lead architect of the awarded "School of Technology" building design says "The key feature of this building is a massive portico that floats over the school gardens. The structure arises from the combination of the two programmatic requirements. The need to create an institutional iconic image, and the inclusion of a set of amphitheaters. The result is achieved in one of the largest concrete structures in the world." In an article published in the Design Magazine, CC Sullivan wrote about Nuno Montenegro's award winning work: "Montenegro's School of Technology and Management building never fails to create opportunities for reflection. The theatricality and grandeur are unmatched elsewhere..." Learn more about this project at: http://www.adesignaward.com/design.php?ID=30611.
Project Members for School of Technology
School of Technology building was imagined by design director and team coordinator: Nuno Montenegro, with collaborating architects: Carla Cameira, Susana Ataíde, Mariana Medeiros, Pedro Carvalho and Rute Ribeiro.
Platinum A' Design Award
Platinum A' Design Award is the highest distinction given by A' Design Competition to only top 1% percentile designs that demonstrates an exemplary level of perfection in design. Entries to the A' Design Awards are peer reviewed, anonymously judged and evaluated amongst strict guidelines and pre-defined award criteria by the 50-person jury panel composed of academics, press members, design professionals and architects. Laureates of the A' Design Award and Competition are granted the A' Design Prize which includes a series of PR and publicity services in order to promote award winners to further audiences. Award winners also receive the trophy, award certificate, yearbook by designer press, exhibition at MOOD and an exclusive invitation to gala-night in Italy.
About A' Design Award and Competitions
A' Design Award and Competition recognize and promotes best designs, exemplary architecture and design concepts in order to create a global awareness for good design practices and principles. A' Design Award and Competitions are organized and awarded annually and internationally in all design and architecture categories to reach a wide, design-oriented audience. The aim of the A' Design Awards is to push designers and architects to come up with superior designs that benefit society. Learn more at: http://www.whatisadesignaward.com.