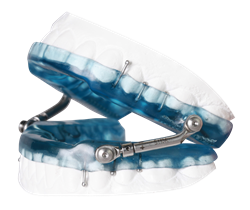 Phoenix, AZ (PRWEB) January 12, 2015
David Gergen, President of Pro Player Health Alliance (PPHA), is spreading word of a Medicare approved dental device used in the treatment of sleep apnea. Recently, CPAP has been the leading option for sleep apnea treatment. CPAP, or continuous positive airway pressure, is a treatment that uses air pressure to keep the airways open. Many people who own CPAPs do not actually use them and as an alternative, Gergen's Orthodontic Lab manufactures the Medicare approved Sleep Herbst Appliance.
What makes this different from CPAP is it aligns your lower jaw to keep your airway open, creating a way for air to flow through instead of forcing it which provides a natural way to breathe. Although CPAP devices reduce the overall number of apnea episodes more effectively in most cases, the oral appliances have shown to have higher adherence among patients. With hundreds of former NFL players currently using it thanks directly to Pro Player Health Alliance and the Living Heart Foundation's (LHF) HOPE Program sponsored by the NFL Players Association (NFLPA), more and more individuals are turning to the Sleep Herbst Appliance for treatment.
Mr. Gergen says, "Creating Pro Player Health Alliance has brought a new wave of awareness to the public by NFL greats sharing personal struggles, experiences and losses with sleep apnea." Pro Player Health Alliance is involved in exciting education opportunities, health evaluations for former players with the LHF HOPE Program, and national awareness of the sleep disorder also known as the "Silent Killer". In an effort to be able to provide treatment nationwide, David Gergen and Pro Player Health Alliance are bringing together a network of dentists that will have the opportunity to treat retired NFL players in local NFLPA chapters for sleep apnea. For more information about how to join Pro Player Health Alliance, email sfaulkner(at)proplayersleep(dot)com or http://www.proplayersleep.com.
ABOUT PRO PLAYER HEALTH ALLIANCE
Pro Player Health Alliance (PPHA) is an organization dedicated to helping former NFL players, through providing testing and treatment options for those who suffer from sleep apnea. Since launching in April 2012, over 160 players have been treated through PPHA's "Tackle Sleep Apnea" campaign. Also, the PPHA is dedicated to integrating education and raising sleep apnea awareness, in a fun and memorable way. In addition to the campaign, PPHA is dedicated to testing and getting people who suffer from sleep apnea treated.
ABOUT LIVING HEART FOUNDATION
The Living Heart Foundation (LHF) is a nonprofit organization under IRS 501 (c) (3) code. The LHF was initially funded by a grant from the Edison Foundation. Subsequently, Funding sources and donations have been obtained from companies like Covidien, Pfizer, Meridian Health System, Siemens, Professional Athletes Foundation, and from individual sources. The LHF was established by Arthur J. Roberts, MD in April 2001 to combat sudden cardiac death and to provide cardiovascular risk stratification with early preventive intervention for cardiac, pulmonary, and metabolic conditions through on-site screening and integrated follow-up health programs. The LHF has published 10 peer review papers related to CV risk in college students & athletes, as well as former NFL athletes.
ABOUT DAVID GERGEN
As President of Pro Player Health Alliance, he has been a nationally respected dental lab technician for over 25 years. He received the award for "The Finest Orthodontic Technician in the Country" given by Columbus Dental in 1986. He also has been appointed chair of the dental wing of the American Sleep and Breathing Academy, a national interdisciplinary academy dedicated to sleep training and education. He has worked for some of the pioneers in the orthodontic and sleep dentistry fields. One of his proudest achievements is receiving The National Leadership award for Arizona Small Businessman of the Year in 2004.