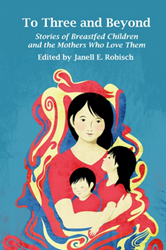 Mother Nature has matched the child's physiological need for breast milk with the ability of the process to nurture them emotionally as they play, explore the world, and acquire independence.
Amarillo, Texas (PRWEB) June 10, 2014
The World Health Organization (WHO) recommends breastfeeding until the age of two as a minimum. The American Academy of Pediatrics (AAP) recommends exclusively breastfeeding for the first six months of a baby's life, and then until 12 months with appropriate complementary foods; then beyond one year of age, so long as mutually desired by the breastfeeding dyad. But as statistics show, less than one-third of U.S. mothers meet their initial goal of exclusively breastfeeding until their infants are three months old. As a result of breastfeeding relationships which often end before a child is six months of age, nursing an older child, from toddlerhood into the preschool years is rarely seen or understood. Praeclarus Press is proud to release To Three and Beyond: Stories of Breastfed Children and the Mothers Who Love Them. In this collection of stories from mothers all over the world and from many walks of life, Janell E. Robisch takes you on an exploration of the reasons, joys, and challenges of full-term nursing from the perspective of the very mothers who have been there, done that.
In the early years of parenting, mothers spend countless hours considering the best ways to raise their children to be happy and healthy. One of the first decisions that they make is how to feed their babies. Once a mother has chosen to breastfeed, it may seem like that is that, but the question of how long to breastfeed a child is laced with controversy and conflict in our society. Children who breastfeed past their third birthday certainly exist. There are probably many more—even just in our own communities—than are realized, but why aren't these children seen nursing more?
Janell E. Robisch is a writer and editor. She works at home and, along with her husband, is raising and homeschooling her three children. She is a former La Leche League Leader and breastfed her children to the ages of 5, 4½, and 3½.
Praeclarus Press is a small press founded by Kathleen Kendall-Tackett, Ph.D., IBCLC, FAPA and specializes in women's health. It features books, webinars, and products that support women's health throughout their lifespan. Based in Amarillo, Texas, the mission of Praeclarus Press is to produce materials that change women's lives.