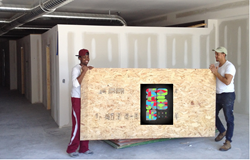 Affordable, historic manufacturing and warehouse buildings available!Ideal for light manufacturing, clean tech, specialty food and beverage production, artisans or artists.
City of Newburgh, NY (PRWEB) May 31, 2014
The Hip Hop artists and poets known as "Decora" and "Freeflowin" have designed and built out a Collaborative Workspace that can house 12 companies at 115 Broadway in the City of Newburgh, NY. They have named their location "Space Create". They chose the City of Newburgh because they sense a new energy here and they feel the opportunity is now. Decora commented, "As Hip Hop/Poet artists, it was a reasonably priced placed to own a home and business and still tour without having to worry about a high cost of living. Secondly as young people who spent most of our childhood in Brooklyn; it gave us a sense of nostalgia. Newburgh, being such a small place with such vast opportunity and great people allows us to create cultural and artistic opportunities that would take too many resources to do in N.Y.C."
The two of them began working together eleven years ago as young adults at a local community college. One thing led to another and they ended up starting a group known as the "Spoken Word Squad" that has since become internationally renowned. "We began to gain momentum about 2 years ago after touring and teaching in hundreds of venues and colleges. With so much time on the road we often found ourselves spending the majority of our down time in Cafés that lent its environment more towards artists and businesses working on their laptops. Coming back to Newburgh off tour we couldn't find something like what we had available to us on the road, so we decided to start it and we called it Space Create." http://www.facebook.com/spacecreatenewburgh
They also chose this location because of its close proximity to things like the Newburgh Ferry that brings you to the Beacon, Metro North train station with train service to NYC in little over an hour, plus walking distance to the Orange County Community College which is slated to be a "Start-Up NY" campus. Their goal will be to attract Web Designers, Publicists, Bloggers, Skaters, Architects and Digital Media Companies to Space Create. The space will feature 24 hour access, Wi-Fi, membership in a Community Shared Agriculture co-op, Bike Share, Conference Room and Kitchen, with all of this being offered at a very affordable price. They have almost leased up all of the spaces with only a few left and are looking forward to opening the doors on July 1 for their new workspace known as "Space Create".