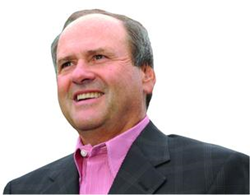 [John's] depth of experience in growing startups in our space is unparalleled.
Chapel Hill, NC (PRWEB) June 02, 2014
Keona Health today announced the appointment of John McConnell to its board of directors as an independent member, effective May 14, 2014.
Previously recognized as one the top CEOs in the nation for stock price appreciation in 1995 and 1997, McConnell has been the recipient of numerous growth and industry awards including being named the North Carolina Technology Entrepreneur of the Year in 1994 and the North Carolina Technology Association's Outstanding Achievement Award in 2012.
"We are delighted to welcome John to the board," said CEO and Chairman Oakkar Oakkar. "His depth of experience in growing startups in our space is unparalleled. We believe John's experience will be very valuable to Keona Health through its early growth phase and beyond."
McConnell's healthcare and business expertise has led him to contribute to several boards both for profit and non-profit including Allscripts, Blackbaud Inc., MED3000, WakeMed Foundation, and The Gillings Global College of Public Health at UNC.
Keona Health allows patients to call, or to go to the clinic's website or patient portal, to ask for health advice. Their health interview is facilitated through an intelligent, automated interview process. Practices quickly respond back to patients with recommendation and education. Patients communicate their concerns in the most efficient way possible, and practices enforce a standard of care across calls while minimizing time and effort.
John P. McConnell, graduate of Virginia Tech with a BS in Finance, first built his career with Virginia National Bank and Burroughs Corporation. In 1982, McConnell co-founded Medic Computer Systems and served as its Chairman and CEO for 16 years-bringing integrated practice management systems, clinical information systems and related services to the physician healthcare market. McConnell led Medic through its initial public offering in 1992 and its sale to Misys Plc for $923 million in 1997. In December 1998, McConnell became CEO and Chairman of A4 Health Systems which provided electronic medical records to physicians and hospitals and served in those roles until 2006 when the company was purchased by Allscripts (Nasdaq MDRX) for $304 million.
About Keona Health
Keona Health helps healthcare professionals communicate with their patients while relieving the telephone burden. Keona is dedicated to give patients access anytime and anywhere with the trust and convenience they deserve, making care more personal, accurate, and easy. For more information, see http://keonahealth.com.