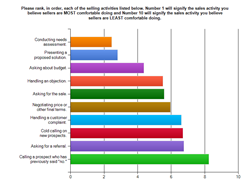 It appears that we have a long way to go to improve the impression of professional sales.- Kelley Robertson
San Jose, CA (PRWEB) June 24, 2014
People First Productivity Solutions and The Robertson Group recently collaborated to conduct preliminary research about the secret fears and apprehension of sales professionals. Sellers, sales managers, business owners and buyers were surveyed.
The initial findings are in, and the results are surprising. Expected results include the confirmation that the number one fear of sellers is being rejected. Unexpected results indicate a shift in how sellers are handing emerging challenges in a climate that gives buyers the upper hand.
In this pre-recorded conversation, listeners will hear from Kelley Robertson, president of the Robertson Training Group, and Deb Calvert, president of People First Productivity Solutions, about their discoveries and reactions to this data. Robertson and Calvert will also share comments from survey participants and leading sales experts who reacted to the preliminary findings.
During the broadcast, these two sales influencers will also offer ideas and suggestions for sellers who would like to overcome these fears and channel their energy into the sales activities that will have the greatest impact - that is, the ones that will replace fear-driven behaviors that erode sales productivity.
CONNECT! Online Radio for Selling Professionals, sponsored by People First Productivity Solutions, is dedicated to helping sellers form and retain improved connections with their buyers. Sales experts from around the world appear on the program each week to help sales professionals cut out continuances, put an end to pending and stop stalling out.
Listeners who are unable to join for the June 28 broadcast can access program archives on demand in the CONNECT1 iTunes Store. Free downloads are available on a wide variety of sales topics and feature the world's leading sales authorities and experts.