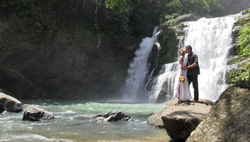 I do.
(PRWEB) May 31, 2014
In today's world, brides-to-be are no longer limited to tying the knot at the local church. Destination weddings have become popular over the past couple of decades, and couples are constantly upping the bar when it comes to where.
Beach weddings in Costa Rica have soared over the past few years—and why not? It's closer and cheaper than Hawaii, and more exotic. Couples can have their ceremony at the beach, and then return the comfort of a vacation rental home for the reception. Plus, it's more serene, authentic and natural than well-trodden destinations such as the Bahamas or Cayman Islands, where weddings are turned out like Twinkies.
Now the bar has just been raised. On Friday, May 30th, 2014, Nauyaca Waterfalls, near Dominical, hosted its first ever wedding. Todd & Sara were married with a small group of friends and family at their own, private waterfall. After a proposition on a small island while sea kayaking, this adventurous young couple had to find some way to raise the bar.
For couples looking to do something different and exotic, it's hard to beat the setting: a 2-tiered, 180-foot waterfall set in the emerald rainforests of Costa Rica's central Pacific zone. It requires a 45-minute horseback ride and a steep 10-minute hike to get there. The force of the water coming over the falls provides a constant, cool breeze as well as a dynamic backdrop. The surrounding, lush verdure frames the setting in tropical green.
A waterfall wedding in a tropical rainforest isn't for everyone, however. Arrival by horseback precludes the possibility of chairs, canopies, and too much equipment. The dress code is by default, casual. The staging area is nothing more than a changing room attached to the latrine. Also, after the ceremony it's impossible to resist a dip in the pure waters of the jungle—as well as a leap from the cliffs. Fanatical brides who look to have everything perfect and tidy for their wedding should look elsewhere.
A typical tour to the waterfalls costs $65, and includes a guide, the horse, entry fee and traditional meal afterwards. For a private tour and wedding ceremony, the pricing starts at around $100 per guest, depending on the head count.
But for those adventurous, young couples who want to do something different and memorable, it is an experience—and event—that will never be forgotten. Nauyaca waterfalls is arguably the most beautiful waterfall in Costa Rica—and a perfect setting for a perfect ceremony.
Congratulations, Todd & Sara!