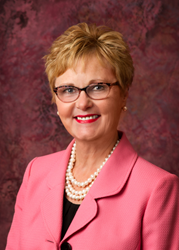 Fresno, California (PRWEB) May 31, 2014
If you haven't heard Sherill Calhoun speak yet it's not too late. We are excited to announce that she is now available to bring her unique brand of enthusiasm for women in business to your organization.
Sherill is a sought after speaker across California. She speaks on a variety of subjects that motivate and help women in business strategize for success. Sherill works with women's associations, community groups, civic organizations and companies of all sizes. She is a network marketing veteran and has represented two of the world's best-known beauty brands. Sherill has over 10 years of team-building and sales success with Mary Kay and is now a leading brand partner with Nerium™ International. She also now heads up the eWomen Network™ Fresno Chapter, an international organization dedicated to lifting women entrepreneurs up using breakthrough strategies to grow their businesses.
Sherill Calhoun is a well-known local advocate for women in business and a successful wife, mother and entrepreneur. She is now offering her highly sought after keynotes and workshops that have helped corporations, civic organizations and women's groups large and small.
Keynotes & Workshop Topics
STOP it! - Identifying and Resolving Barriers Personally or Professionally
Lady PLEASE Pass Me the Buck! – Identifying an Untapped Stream of Cash Flow
The Art of Reaching Out – Tips to Engage and Develop New or Existing Business Relationships
Why I Make Pies – This Is A Great Presentation for Baby Boomers or Women In the Process of Career Transition
Sherill Calhoun has the enthusiasm of a newly minted college grad, coupled with the strength and wisdom that comes with 45 years of professional experience in banking, direct selling and community leadership. She is praised for her passion for helping women succeed in business, her authentic communication and her open warmheartedness.
To book Sherill Calhoun to speak at your next event please connect with her via social media or call 559-381-2409 to check availability.
About
Sherill Calhoun is a 21st Century business connector and ground breaking networker. She has over 45 years of business experience in both corporate America and as an entrepreneur. Sherill mentors women who are seeking financial stability through a highly successful strategic process. She models new thinking and action oriented behavior in her unique approach to building purposeful business relationships. Sherill is the Managing Director of the eWomen Network™ Fresno Chapter and a successful Brand Partner with Nerium™ International. She is available to speak, motivate and train women in business who are ready to reach their goals by lifting up one another as they climb towards success. Connect with Sherill on Facebook or attend a eWomen Network™ Accelerated Networking event and get to know one of the Central Valley's best networking resources.