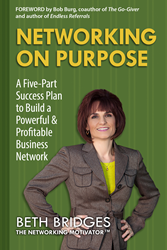 Fresno, CA (PRWEB) May 31, 2014
Beth Bridges, the Networking Motivator™ and author of "Networking on Purpose: A Five-Part Success Plan to Build a Powerful & Profitable Business Network," is releasing the Kindle version of the book through Amazon on June 5th. The paperback version reached #1 in two categories on Amazon: Small Business - Marketing and Business Life - Motivation and Self-Improvement.
Beth spent eleven years as the Membership Director of a large west coast chamber of commerce and attended over 2,400 networking events where she learned that networking – even for experienced business people – wasn't seen as a simple process. She created the Five-Part Networking Success Plan to give business owners, sales people, marketing executives, students, and job seekers a simple and powerful tool for building and profiting from their network.
The Kindle version will be released through Amazon on June 5th, 2014. Those who are interested in being the first to get their Kindle ebook of "Networking on Purpose" are invited to get an advance preview excerpt of the book here.
"I have personally used these strategies to build a strong network which has helped me in many ways including launching my book at #1 on Amazon and helping me land a new job within 24 hours of beginning my search," says Beth, "Let me show you the very simple process of how I did it."
About
Beth Bridges is The Networking Motivator (tm) and has attended over 2,400 networking events in the last eleven years. As the Chief Networking Officer of a large chamber of commerce, she interacted with tens of thousands of people in person and online. She created the Five Part Networking Success Plan™ when she saw new and experienced business people struggling to network effectively. Beth is known nationwide as a leading networking authority by Chamber of Commerce executives and community leaders. She is an Expert Author on EzineArticles with over two hundred published articles and is a Top Author in the Business Networking category. Connect with Beth on Facebook and on Twitter @BethBridges