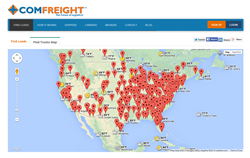 Long Beach, CA (PRWEB) June 05, 2014
ComFreight is preparing to release a new feature for its carrier and broker users. ComFreight is a new freight matching and bidding marketplace app for the commercial freight industry. The new rate index serves to help both carriers and brokers check the average price on shipping or trucking lanes to make sure they have full visibility of market rates when pricing freight for customers or negotiating with other service providers. The plan is to add this new tool without an additional cost for the current users of the system.
Leveraging technology to supply freight rates to the marketplace is the main way that the company plans on offering this new tool and feature. The current subscription prices are $15 per month for carriers and $19 per month for brokers. The new tool is designed to serve both for a variety of industry and market related uses. The concept is balanced on a freight marketplace for bidding and RFPs as well as the added capability of a load board and other tools such as cloud storage and sending of important documents. ComFreight has a key focus on making sure its site works like a mobile app on all mobile devices without the need for installing and actual app on a users phone or tablet as well.
ComFreight has been developing the feature for the past several months and final development and testing of version one of the technology is now being prepared for launch for its growing user base of carriers and freight brokers. Freight agents are very often the most common users to find shipper loads on with the Broker account and the Rate Index will enable Agents to price freight and quote their customers more effectively. Carriers and Owner-Operators who are using the Carrier account will also have the new ability to check what the market rate is for any particular city to city lane with the Rate Index feature.
The ComFreight team will be updating the trucking and logistics industry once the feature is live and in beta use by current users. Carriers can use the tool to find out if they are being short changed based on the most current market rates for freight shipments. The benefits for dispatchers, freight agents and brokers is also notable. Brokers and Freight Agents can use the tool to find out if a carrier is asking for a rate that is much higher than the current market rate and can also more accurately quote their customers.