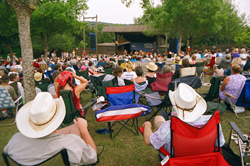 Held each year since 1972, the Kerrville Folk Festival is the longest continuously running festival of its kind in North America.
Kerrville, Texas (PRWEB) May 31, 2014
2014 KERRVILLE FOLK FESTIVAL
The Kerrville Folk Festival at Quiet Valley Ranch, nine miles South of the Texas Hill Country resort community of Kerrville had a great, well attended Memorial Day opening weekend. The Festival continues with concerts and workshops through June 8, 2014.
The second weekend May 30 – June 1 includes DANA COOPER, TROUT FISHING IN AMERICA, PETER YARROW of Peter Paul and Mary, SHAKE RUSSELL & MICHAEL HEARNE, JAMES HILL, BRENNAN LEIGH & NOEL MCKAY, RAY CHESNA and BREWER & SHIPLEY.
And the third and final weekend June 6 – 8 STEVE FORBERT, JEFF BLACK, HARPETH RISING, ELIZA GILKYSON, BILLY JONAS, ALBERT & GAGE, BOBBY BRIDGER and LARRY JOE TAYLOR.
The six Award Winners for the Grassy Hill Kerrville New Folk Competition, Frank Martin Gilligan, Caroline Spence, The Lovebirds, Connor Garvey, C.Daniel Boling and Matt Nakoa will perform in concert on Sunday June 1st from 1 - 4PM. Former New Folk finalists and winners include Lucinda Williams, Lyle Lovett, Nanci Griffith, David Wilcox, John Gorka, Jimmy LaFave, Tish Hinojosa, BettySoo, Tom Prasada-Rao, Danny Schmidt, Jonathan Byrd, Tom Russell, Ray Bonneville, Steve Earle, Hal Ketchum, Robert Earl Keen and many hundreds of others.
Held each year since 1972, the Kerrville Folk Festival is the longest continuously running festival of its kind in North America. Over the years it has become known internationally as a Mecca for singer songwriters of varying musical styles… a place where those just beginning to develop their skills have the opportunity to play their music alongside those who are masters. Emerging songwriters as well as teachers are drawn to the festival's many learning opportunities, such as the 34th Annual Songwriters School, the Roots / Blues Guitar Workshop, Harmonica Workshop, Ukulele Workshop, Capo Workshops, a Music Law Panel Discussion, and the 13th Annual Professional Development Program for Teachers.
There's truly something for everyone at this festival, from camping, campfire jam sessions, concerts and activities for kids, "Ballad Tree" song sharing sessions, Hill Country bike rides and canoe trips on the Guadalupe to Sunday Folk Song Services, Saturday Shabbat Services and much more. This is one musical celebration that must not be missed! A complete festival schedule, information and tickets can be found at http://www.kerrvillefolkfestival.org or by calling the festival office at (830) 257-3600. Ticket prices range from $25 to $40 depending on the particular day Campground Access and Parking Lot fees are included in the ticket price.
The Kerrville Folk Festival is owned by the Kerrville Folk Festival Foundation, a 501(c)3 non-profit organization that is dedicated to the support of emerging songwriters and folk music in all its forms.
If you'd like more information about this topic, or to schedule an interview with Dalis Allen, please call the Festival Production Office at (830) 257-3600 or e-mail info(at)kerrville-music(dot)com.