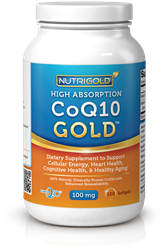 NutriGold CoQ10 is now approved by ConsumerLab.
Orem, UT (PRWEB) June 30, 2014
As a company pushing for complete transparency in the supplement industry, NutriGold has worked with multiple third-party labs, including the popular consumer watchdog, ConsumerLab, to validate their supplement, CoQ10 Gold.
A co-enzyme produced naturally in all forms of animal life, CoQ10 offers powerful antioxidant protection, supports healthy cardiovascular and cognitive function, and supports immune health. It is also vital in the production of energy, with especially large concentrations in the heart which depends on high levels of energy for normal operation. As an antioxidant, CoQ10 helps protect proteins and mitochondrial DNA from oxidative damage supporting a healthy heart, brain, and joints. Although the body can typically make the amount of CoQ10 it needs for optimal health, several factors including aging, the use of certain medications, and some diseases can affect CoQ10 levels in the body, making supplementation important.
CoQ10 Gold features Kaneka Q10®, the purest and most researched CoQ10 ingredient in the world with a documented history of safety and effectiveness spanning 30 years. It is formulated with BioPerine®, an extract cultivated from the black pepper fruit that is proven to significantly increase CoQ10's absorption.
CoQ10 Gold is manufactured to cGMP guidelines in the US without the use of fillers, binders, artificial ingredients, preservatives, stearates, laurates, sulfates, and dioxides and verified to meet industry-defining purity and potency standards by independent, third-party labs.
FREE SAMPLES
For free product samples of NutriGold supplements, please visit http://www.nutrigold.com/free-samples, click "Like" on Facebook, or "Follow" the company on Google Plus.
ABOUT NUTRIGOLD
NutriGold is a science-based nutraceutical company committed to identifying, developing, and offering cutting-edge nutraceutical products. With a portfolio of best-in-class products at reasonable prices backed by unmatched service, NutriGold is not just raising the bar on quality, but is helping define the standards for the rest of the industry to follow and this is reflected in its:
+ Use of non-GMO, organic, whole-food, and clinically-proven ingredients
+ Uncompromising efforts to manufacture products without artificial ingredients, Stearates, Laurates, Sulfates, and Dioxides
+ Voluntary, extensive third party testing of all raw materials and finished products for identity, purity, potency, and safety
+ Resolute efforts to ensure that all products are free of contaminants, adulterants, allergens, and GMOs
+ Unwavering commitment to transparency, accountability, and truth in advertising
+ Initiatives to educate consumers so they can make informed decisions that affect their health
Website: nutrigold.com
Phone: 1-866-224-4680
Facebook: facebook.com/NutrigoldUSA
Google Plus: plus.google.com/+NutrigoldUSA
Twitter: twitter.com/Nutrigold_USA
FREE Product Samples: http://www.nutrigold.com/Free-Samples