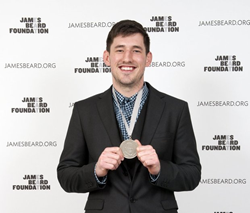 The pré fixe menu draws from bordering sea and foraging, plus 150-plus items from the exclusive, private Loganita Garden.
Lummi Island, Washington (PRWEB) June 01, 2014
For the first time since head chef Blaine Wetzel arrived from Noma in Copenhagen in 2011, The Willows Inn on Lummi Island will take reservations for six nights a week, starting July 7,
This month Wetzel added Wednesday nights, as usual during peak season, for his acclaimed dining experience of 15 or more tastes, bites, and mains for which the James Beard Foundation recently named him a Rising Star Chef in the USA. The award goes to chefs under age 30 who the Foundation believes will have a long-lasting impact on the culinary world.
The Willows accepts dinner reservations no sooner than 14 days ahead for non-guests of the inn. Guests have priority in the 30-seat main dining room, and an 8-seat private dining room also is available.
Dinner features a Fished, Foraged, and Farmed theme, and includes selections from more than 150 items planted this year at the restaurant's private farm (($165/person, plus wine pairing, tax, and gratuity). That garden also supplies The Willows' smaller dining establishments, the Taproot Cafe and the Beach Store Cafe.
The Beach Store, set near the ferry dock facing Mt. Baker, recently added a new manager and culinary-trained chef staff of three plus an intern from the Culinary Institute of America in New York. It moved to a 7-days-a-week schedule and the menu expanded, with focus similar to The Willows Inn's thematic, fresh approach. A daily happy hour menu was added featuring specialty drinks like a house-made mix for Bloody Marys (3-6pm).
The menu has unique selections such as the Loganita Farm Vegetable Dinner and an island grass-fed beef burger, original soups and salads, plus the renowned Wood Stone oven for pizzas and special roasting. Lunch and dinner feature more than 25 items -- many changing daily with freshly-arriving ingredients ($5-$17).
The new head chef is Seth Caswell, a former Seattle restauranteur who came from Bon Appetit's food service division serving Google Corporation. The new manager is Scott Kerbein, who moved from Salt Lake City.
The Taproot Cafe, downstairs at the Willows Inn, offers dining six days a week -- including breakfast (highlight: the premier, fresh Loganita Farm Breakfast, $20/person). The cafe also houses a country store with Willows Inn prepared items and other offerings from local artisanal sources.
An in-house baker services all three dining establishments.
Also, the Willows Inn has moved its dates for the third annual First Harvest Dinner, originally scheduled July 23-24, and will make an announcement soon about the new dates and lineup of national and international award-winning chefs who will participate.