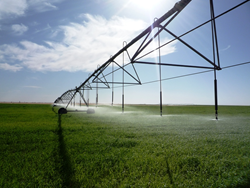 Alfalfa @ EurekaMag.com
Mannheim, Germany (PRWEB) June 03, 2014
EurekaMag.com has published 19,600 references on physiological, agronomic and phytosanitary aspects of Alfalfa (Medicago sativa) production which covers many warmer-temperate arid to semi-arid regions worldwide. The site's research category covers all articles on this perennial flowering plant in the pea family Fabaceae. The Life, Earth & Health Sciences Research Section 30 contains a subset of 5,710 references focusing on the value of Alfalfa hay and silage for improving nutrition of livestock.
The Life, Earth & Health Sciences Research Chapter 29957 presents multiple studies on Alfalfa insect control in the US including references on managing Alfalfa weevil, potato leafhopper, grasshopper, army cutworm and aphids. It also covers Alfalfa nodulation in the absence of Rhizobium A, Alfalfa nutritive quality for ruminant livestock as influenced by ambient air quality in west-central Alberta, Alfalfa organic seed production in central Italy, Alfalfa pollination in southern Ontario, Alfalfa products and method for producing Alfalfa products for a sequential harvesting system, Alfalfa response to elevated atmospheric CO2 varying with the symbiotic rhizobial strain, Alfalfa response to method of application of phosphorus and potassium fertilizers, Alfalfa root exudates containing isoflavonoids in the presence of Rhizobium meliloti, and on isolation and quantification of Alfalfa saponins and sapogenins in different cultivars.
The most important and, consequently, most read articles on Alfalfa at EurekaMag.com include references on characterization and effects of preceding crops and residue incorporation on allelopathy and autotoxicity in Alfalfa, an Alfalfa trypsin inhibitor which inhibits Alfalfa leaf proteinase, impaired nodule function in Medicago polymorpha L. infected with Alfalfa mosaic virus, leaf miners on clover and alfalfa, and on Alfalfa establishment in mine and mill tailings.
Established in 1998, EurekaMag.com is a publisher of references in biology, in the applied life sciences agriculture, horticulture and forestry, in the earth sciences, in the environmental sciences, and in the medical and health sciences. The site currently contains a total of 36.9 million bibliographic references and 20.8 million abstracts from as early as 1703.
The site also features expert literature searches on user-requested biological, geographical and health subjects, a mobile version for smartphones and frequently updated accounts at Twitter, Facebook, LinkedIn and Google+.