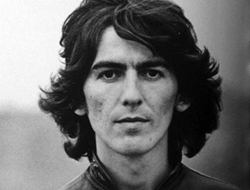 The point is being a famous Beatle, you are not going to a famous Beatle house...and say we made a terrible mistake. - George Harrison
Los Angeles, CA (PRWEB) June 02, 2014
Recently, unearthed and just released is a historic interview with George Harrison of The Beatles, and legendary radio personality, Levi "Who Loves You" Booker. The first released part of this interview covers George Harrison's and John Lennon's troubles with the law and drugs, and how George believes he and John were set up by corrupt cops. This is the first time, the public has heard George's side of the story, and how it almost derailed him from ever returning back to the United States.
This interview was recorded during George's first ever solo tour in the United States in 1974. George was the first ex-Beatle to ever tour the United States with his 45-date Dark Horse Tour, supporting his new album at the time "Dark Horse."
The first part of this exclusive interview has just been released, and expect more excerpts from this wide-ranging interview to be released over the coming days and weeks. Before its digital release, the only other known location for this interview is deep in the archives of the Rock and Roll Hall of Fame.
To listen to the first part of the interview, visit https://soundcloud.com/Classic-Saturday and follow Levi on Twitter @leviwholovesya. Future editions of the interview will be published on Twitter and on SoundCloud.