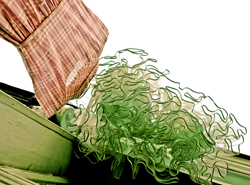 (PRWEB) June 03, 2014
As an artist, Sivan Askayo photographs what she loves—travel, street art, food—and tends to immerse herself entirely within her environment. This unique tendency allows Sivan to capture the true essence and personality of her surroundings. Sivan's laundry project, aptly titled 'Intimacy Under the Wires,' began with a random shot taken in Jaffa one inconspicuous Friday afternoon in April of 2010. As fate would have it, the single shot was destined to act as the catalyst for an entire series consisting of numerous snapshots, each offering a glimpse into people's lives through their laundry. This global photography collection is intimate and alluring, breeding a voyeuristic sense of energy and rhythm as the breeze blows her subjects dry.
As the project has evolved and grown, Sivan has garnered a worldwide following, consisting of fans that often invite her to visit them in their countries to snap an image of their laundry and their lives. 'Intimacy Under the Wires' has been featured by The Independent UK, Phaidon, Feature Shoot, Design*Sponge and is now available for sale for the first time as limited edition prints, exclusively with Artfully Walls.
About Sivan Askayo
Sivan Askayo is a photographer based in Tel Aviv and New York. Sivan's work has been featured in leading publications including Elle Decor US, Marie Claire Italia, Travel+Leisure, Conde Nast Traveler, The Independent, Phaidon and Design*Sponge. Her work has been exhibited nationally and internationally, and she has been involved with emerging artists groups both in New York and in Tel Aviv.
About Artfully Walls
Artfully Walls offers a new contemporary way to shop for art online, showcasing pieces on beautifully styled gallery walls. All of the art on the site is hand-picked by professional curators, and prints sold are of the highest quality. This coupled with numerous online tools, including an easy to use art gallery wall designer and mobile app that utilizes augmented reality technology, makes the art shopping experience, fun, chic and affordable. Intimacy Under the Wires by Sivan Askayo is available exclusively at Artfully Walls as limited edition prints.