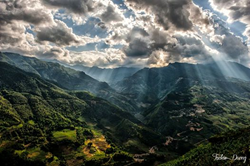 Coming to Y Ty, you will think you was lost in another world
(PRWEB) June 02, 2014
Smiletravelvietnam.com is a local website operated by Smile Travel Vietnam Company. It provides a lot of useful information and impressive promotion tour packages. To better serve world-wide tourists, Smile Travel Vietnam has officially offered a unique tour to Sapa to discover the mystical beauty of Y Ty commune-an attractive tourism destination.
Y Ty commune rarely sees the sun and is often covered by dense white clouds. Clouds cover the roads, villages and mountains, merging with the horizon right in front of tourists. No wonder visitors have the experience of entering a different world.
"From the car windows, visitors can see zigzag tracks sunk deep in forest leaves and houses that appear and disappear in the clouds. Coming to Y Ty, you will think you was lost in another world," said the Chief executive.
Furthermore, terraced fields rise and fall on the hills, beautiful all year round. Terraced fields are full of glittering water running from high mountains. They pile up like stairs to the sky and co-ordinate with colorful clouds to create an awesome painting. Professional and amateur photographers welcome the chance to take stunning photographs.
Terraced fields rise and fall on the hills, beautiful all year round. May is "pouring water season" in Y Ty. As locals transplant rice seedlings, visitors are treated to the sight of glittering ponds. After that, the hills are covered by green.
Last but not least, holiday makers will have a chance to have a fabulous view of earthen houses, which have unique architectural features. Seeing the simple architecture of earthen houses, no one would think that people here have to spend around one month building them. The time to repair or build houses is after each crop. Seen from above, the houses resemble huge mushrooms.
All interested visitors should contact: sales(at)smiletravelvietnam(dot)com or call 84.976.127.023 for further details.